Jeanette Kellett Grisham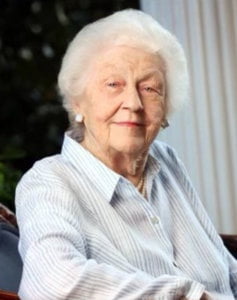 Funeral services for Jeanette Kellett Grisham, 95, West Plains, Missouri, will be held at 10:00 a.m., Friday, September 30, 2022 at the First Presbyterian Church in West Plains, under the direction of Robertson-Drago Funeral Home.  
Mrs. Grisham passed away at Monday, September 26, 2022, at her home.  
She was born April 26, 1927, at Christa Hogan Hospital in West Plains, the younger daughter of the late Howard and Ruth Catron Kellett.  She spent her childhood in the two-story red brick house at 905 West Main, better known to Missouri State University-West Plains students and faculty as Kellett Hall, the university's first building and a campus and community landmark. 
She graduated from West Plains High School in 1945 and received the prestigious honor of Best Citizen during graduation ceremonies.  After high school, she attended the Gulf Park College for Women in Gulfport, Mississippi, where she was elected Miss Gulf Park, the top honor awarded.  Jeanette then attended the University of Colorado at Boulder for two years where she was a member of Pi Beta Phi sorority.  She left college to return to West Plains to marry a young livestock dealer named Jerry Grisham.  The two made a handsome couple and were married April 12, 1950, in the First Presbyterian Church of West Plains.  Mr. Grisham preceded her in death in 2008. 
Mrs. Grisham had a long and storied West Plains lineage.  Her great-grandfather, O.H.P. Catron was an important developer of West Plains in the 1880s, served as the first mayor of West Plains and owned the Catron Opera House, which remains a downtown West Plains landmark to this day.  Her father was also a civic leader and served many years as president of First National Bank.  Her mother was the first woman driver in West Plains.  The Kelletts and their children, Mary-Alice, Jeanette and an adopted son, Jack McFarland, were prominent citizens of West Plains. 
In addition to devoting her life to her family and husband and their activities, Mrs. Grisham was a 75-year member of the philanthropic women's group PEO, served on the Drury University Board of Trustees, was part owner of the West Plains Daily Quill and was a member emeritus of the Missouri State University-West Plains Development Board.  In the 1990s, she and her family donated the Avenue theater building to the Arts on the Avenue Board, providing a permanent home for theatrical productions in the community.  She was a member of First Baptist Church of West Plains. 
Mrs. Grisham's generosity and graciousness were unmatched, her kindness all inclusive.  Her ministry and calling were sending beautifully handwritten notes each day to friends and acquaintances to acknowledge their celebrations, their losses or their contributions.  In her later years, she eagerly embraced technology and sent up to 30 text messages daily to family and friends who looked forward each day to her correspondence.  No one loved Christmas and gift giving more than Jeanette, and each family member felt special when they received a note or card from her always signed, "Love you bestest." 
She is survived by four children, Deborah Wehrman (David) Centralia, Robert Bruce Grisham (Libby) West Plains; Jan Akin (Hudson) Nashville, Tennessee, and John Alan Grisham (Emily) West Plains; a daughter-in-law, Elizabeth Bennett (Drew) Rogers, Arkansas; she was a beloved "Mimi" to twelve grandchildren, RB Grisham (Jackie) Springfield, Amy Grisham, West Plains, George Nelson Crow III (Cindy) Austin, Texas, Emily Williams (Hudson) Birmingham, Alabama, Catherine White (Ryan) Fayetteville, Arkansas, Mary-Louise Nash (Taler), West Plains, Margaret Schloss (Jason) Fayetteville, Arkansas, Courtney York (Colin) Frederick, Colorado, Laura Grisham, Tulsa, Oklahoma, Sarah Grisham, Denver, Colorado, Philip Grisham, Columbia, Missouri and Greta Grisham, Columbia, Missouri; fourteen great-grandchildren, Robert and Kellett Grisham, George, Hunter and Emma Caits Crowe, Jack and Hazel Williams, Sophia, Caroline and Mary-Claire White, Frances and Samuel Schloss, Eleanor Tollenaar and Theodore York; first cousin, Cynthia Catron Pierce; several nieces and nephews; and she leaves behind a very special friend, Helen Stanley, who the family thanks for her many years of loyal devotion and care.  The family also thanks Debbie Tollenaar for her friendship and care during these recent months as well as the Ozarks Health Care Hospice team. 
She was preceded in death by her parents, her older sister, Mary-Alice Manny, her husband, Gerald Edward Grisham and one son, Samuel Howard Grisham.  
Visitation will be held from 9:00 until 10:00 a.m., Friday, at the First Presbyterian Church.  Burial will be at Oak Lawn Cemetery.  Memorial contributions may be made to The Jeanette Kellett Grisham Scholarship Fund at Missouri State University-West Plains and may be left at or mailed to Robertson-Drago Funeral Home, 211 West Main, West Plains, MO  65775.