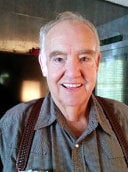 Funeral services for Jerry Brumitt Eagleman, 73, Kansas City, Missouri, formerly of West Plains, Missouri, will be held at 2:00 p.m., Friday, March 25, 2016 in the Rose Chapel at Robertson-Drago Funeral Home.
Mr. Eagleman passed away Saturday, March 19, 2016 at his home.
He was born September 16, 1942, to Ralph Eagleman and Maxine Brumitt Eagleman.  He attended West Plains High School and on November 4, 1960, he was married at Bakersfield, Missouri, to Virginia "June" Orf.  The couple moved to Kansas City, Missouri in 1960 and started working for Hallmark Cards and then took a job at General Motors before finding his passion in trucking.  Mr. Eagleman started working for E.O. Pulley trucking and then FBI (Fleming, Babcock, Inc.).  Mr. Eagleman was a hard worker and dedicated his life to making sure his family was cared for.  He loved fishing and watching baseball and football.  His favorite television show was "In the Heat of the Night".  He also enjoyed watching and reading Westerns.  Mr. Eagleman was a member of Grandview Assembly of God Church.
He is survived by his wife, June Eagleman, of the family home; his youngest  daughter, Terri Michelle "Shelly" Decker and husband, Jerry Keith Decker, Harrisonville, Missouri; three grandchildren, Kiera Meagan Hutton, Nicholas Cameron Hutton and Dalton Shayne Decker; one great-grandchild, River Alora Woods; three brothers, Ronnie Eagleman and wife, Joanne, Jimmy Eagleman and Bobby Eagleman, all of West Plains, Missouri; one sister, Judy Eastman, West Plains, Missouri; one brother-in-law, Gary Orf and wife, Sue, Bakersfield, Missouri; one sister-in-law, Patricia Kesner, West Plains,  Missouri; and several aunts, uncles, nieces, nephews and cousins.
His parents, eldest daughter, Jerrie June Hutton Kerr and father-in-law and mother-in-law, Ed and Marie Orf, precede him in death.
Visitation will be from 6:00 until 8:00 p.m., Thursday, at Robertson-Drago Funeral Home. Burial will be in the Bakersfield Cemetery.