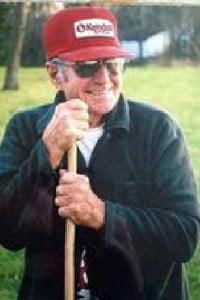 Funeral services for Johnie Johnston, 89, Tremont, Illinois, will be held at 2:00 p.m., Wednesday, March 30, 2016 in the Rose Chapel at Robertson-Drago Funeral Home.
Mr. Johnston passed away at 6:45 p.m., Friday, March 25, 2016 at OSF St. Francis Medical Center, Peoria, Illinois.
He was born March 26, 1926, at South Fork, Missouri, to James Walker and Florence Douglas Johnston. He married Nelta Faye Miller Dec. 24, 1952, in Salem, Arkansas.  Mr. Johnston was a veteran, having served with the United States Army stationed in Germany during World War II. He was proud to travel to Washington D.C. in 2013 in the Honor Flight program.   At the age of seventeen, he worked with his father, building fuel cells for the B-17 bombers in Michigan. He went to Germany and was a machine/bazooka gunner. After the war, he worked as a projectionist at a movie theater in Germany until 1946.  He came to Chicago and was a photographer; then worked at Caterpillar Inc. in East Peoria in heat treat for five years. He later worked at R.G. LeTourneau, was a carpenter for Stuber Builders in Tremont in 1957, worked for Tazewell Builders in Tremont, and then was a self-employed contractor in the Tremont area, retiring in the early 1990's.  Mr. Johnston was a member of the Carpenter Union in Pekin and Tremont VFW and attended the Church of Christ in Morton.
He is survived by his wife, Nelta Faye Johnston, of the family home; six children, Jo Ann Johnston, Ste Genevieve, Missouri, Ray Johnston and wife, Jan, Barling, Arkansas, Richard "Rick" Johnston and wife, Marilyn, Greenwood, Indiana, Alan Johnston and wife, Tina, Tremont, Illinois, John Scott Johnston ,Sparland, Illinois and Roxanna Darlene Abernathy, Tremont, Illinois; 11 grandchildren; 6 great-grandchildren; three brothers, Kenneth Johnston, Tucson, Arizona, Robert Johnston, Muskegon, Michigan and Carl Johnston, Warren, Ohio; and one sister, Betty Newberry, Wichita, Kansas.
His parents and one infant son, Gary Allen Johnston, precede him in death.
Visitation will be from 4:00 until 7:00 p.m. Monday, March 28, 2016, at Davis-Oswald Funeral Home in Tremont, Illinois followed by a visitation at 1:00 p.m., Wednesday, at Robertson-Drago Funeral Home. Burial will be in the South Fork Cemetery.  Memorial contributions may be made to the Greater Peoria Honor Flight and may be left at Robertson-Drago Funeral Home.