Joe Arnold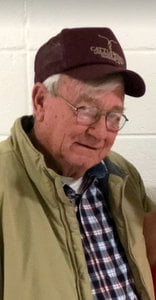 Graveside services for Joseph Elward Arnold, 79, Bakersfield, Missouri, will be held at 2:00 p.m., Saturday, March 27, 2021 at Baptist Hill Cemetery, under the direction of Robertson-Drago Funeral Home. 
Mr. Arnold passed away at 4:50 p.m., Tuesday, March 23, 2021, at Baxter Regional Medical Center, Mountain Home, Arkansas. 
He was born December 6, 1941, at Jonesboro, Arkansas, to Nelson Arnold and Frankie Robinson.  On March 1, 1968, he was married at Crider, Missouri, to Phyllis Mullins.  Mr. Arnold was a veteran, having served with the United States Navy.  Before his retirement, he worked as a technician at Baxter Lab.  Joe loved his grandchildren and enjoyed going to their ballgames; he also loved to hunt and fish. 
He is survived by his wife of fifty-three years, Phyllis Arnold; four children, Shane Arnold and wife, Amy, Harrison, Arkansas, Heath Arnold and Wendy, Bakersfield, Missouri, Nichole Marsh and Kenny, Bakersfield, Missouri and Doralee Garrison and husband, Anthony, Thayer, Missouri; eleven grandchildren, Amanda Hinten and husband, Donnie, Emily Clark and husband, Waylan, Kristin Arnold, Keean Marsh, Elizabeth Arnold, Klayton Marsh, Shelby Foster, Ethan Arnold, Kaitlin Marsh, Cailee Garrison and Camryn Garrison; two great-grandchildren, Finley Mack Clark and Rynnleigh  Jo Marsh; two sisters, Joyce Young and husband, Thomas, Crider, Missouri and Johnnie Kay Minge, West Plains, Missouri; and several nieces and nephews. 
His parents, one brother, Mickey Arnold, one sister, Jean Bratton and two brothers-in-law and sisters-in-law, Joe Bill and Hazel Bales and Mack and Mary Ann  Mullins, preceded him in death. 
Memorial contributions may be made to St. Jude's Children's Research Hospital and may be left at or mailed to Robertson-Drago Funeral Home, 211 West Main, West Plains, MO  65775.