John Edgeller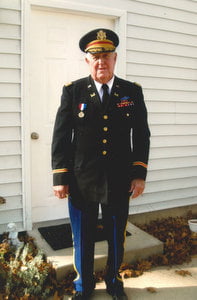 Funeral services for John Stuart Edgeller, 96, West Plains, Missouri, will be held at 10:00 a.m., Monday, September 19, 2022 at St. Mary's Catholic Church, under the direction of Robertson-Drago Funeral Home.  
Mr. Edgeller passed away at 2:15 a.m., Wednesday, September 14, 2022, at Ozarks Medical Center.
He was born June 16, 1926, in Omaha, Nebraska, to John William Edgeller and Vivian Antoinette Lilly Edgeller.  He attended Catholic schools and graduated from Omaha Technical High.  Mr. Edgeller was a veteran, having served with the United States Army during World War II, fighting in the Battle of Okinawa.  After his honorable discharge, he moved to the West Plains, Missouri area and worked for the City and Colonial Bread before becoming the co-owner of the Junction Café with Curtis Huff.  Later he co-owned the OTASCO store with his brother, Vincent Edgeller.  John joined the Missouri National Guard in 1948 and was Company Commander of the West Plains unit from 1958 to 1970.  He retired in 1986 attaining the rank of Lieutenant Colonel.  Mr. Edgeller was a member of the Kiwanis for many years and was a loyal, long time member of Elks Lodge where he served as Exalted Ruler.  He was also a member and commander of AMVETS Post 98 for a number of years.  Mr. Edgeller was a life time member of St. Mary's Catholic Church.
He is survived by his wife, Ruth Edgeller; four children, Rhonda Head, Springfield, Missouri, Bruce Edgeller and wife, Linda, West Plains, Bill Edgeller and wife, Carol, Platte City, Missouri and Susan Tiehen and husband, Pat, Shawnee, Kansas; eight grandchildren, Matt Head, Josh Head and wife, Beth, Springfield, Missouri, Charlene Smith and husband, Jerico, Hardy, Arkansas, John Edgeller and wife, Jennifer, West Plains, Jacob Tiehen, Overland Park, Kansas, Alex Tiehen, Shawnee, Kansas, Scott Edgeller, Kansas City and Craig Edgeller, San Jose', Costa Rica; eight great-grandchildren; one sister, Mary Schmidt, West Plains, Missouri; and numerous nieces, nephews and other relatives.
His parents, two brothers, Vincent and Thomas Edgeller, one son-in-law and one brother-in-law, preceded him in death.  
Visitation services will be held from 6:00 until 8:00 p.m., Sunday at Robertson-Drago Funeral Home.  Burial will be in St. Joseph Cemetery.  Memorial contributions may be made to St. Joseph Cemetery or St. Jude's Children's Research Hospital and may be left at or mailed to Robertson-Drago Funeral Home, 211 West Main, West Plains, MO  65775.