John Stoner Wade, Jr.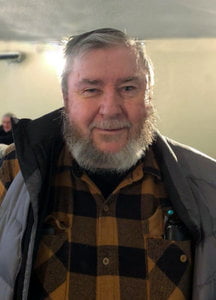 A Celebration of Life Service for John Stoner Wade, Jr., 75, West Plains, Missouri, will be held at 10:00 a.m., Saturday, April 3, 2021 at The Bridge Church of West Plains.
Mr. Wade passed away at 10:57 p.m., Thursday, March 25, 2021, at his home. 
He was born July 21, 1945, at Amery, Wisconsin, to John Stoner Wade and FloraBelle Davidson Wade.  On September 5, 1981, he was married at Delafield, Wisconsin, to Sandra Quandt.  Mr. Wade was a veteran, having served with the United States Air Force.  He enjoyed painting, hunting, fishing, bowling and playing golf.  He was a member of Alcoholics Anonymous, Nicotine Anonymous and was a life time member of the Veteran's of Foreign Wars.  
He is survived by his wife, Sandy Wade, of the family home; two children, Elizabeth Smart, Phoenix, Arizona and John Stoner Wade III, Fort Atkinson, Wisconsin; two grandchildren, Jolie Higgins, Watertown, Wisconsin and John Stoner Wade IV, Fort Atkinson, Wisconsin; one sister, Patricia Wade, Fort Atkinson, Wisconsin; four sisters-in-law, Barb Hocking and husband, Roy, Wauwatosa, Wisconsin, Diane Richards, Juneau, Wisconsin, Cindy Clausen, Plainfield, Illinois and Debbie Quandt and husband, Matt Renner; and several nieces and nephews. 
His parents, one granddaughter, Yvonne Smart, his mother-in-law and father-in-law, Howard and Beverly Quandt and one sister-in-law, Kathy Hintz, preceded him in death. 
Memorial contributions may be made to Salutes Veterans Shelter, Light the World Ministries TV38 or Lake Area Club, Oconomowoc, Wisconsin and may be left at or mailed to Robertson-Drago Funeral Home, 211 West Main, West Plains, MO  65775.