Joyce Busbey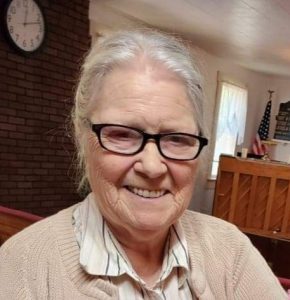 Graveside services for Joyce Busbey, 79, Peace Valley, Missouri, will be held at 2:00 p.m. Tuesday, August 4, 2020 at the Bennett Chapel Cemetery, under the direction of Robertson-Drago Funeral Home.
Mrs. Busbey passed away at 10:15a.m., August 01, 2020 in Peace Valley, Missouri at the family home.
Joyce was born in Camdenton, Missouri to Everett Wallander and Mattie Marler Wallander on May 29, 1941. She married John Busbey on October 31, 1959 in Peace Valley, Missouri. Joyce loved her husband, children, grandchildren and great grandchildren. She had a great passion for cooking for her family and enjoyed sewing for them as well. Joyce loved her dogs so much she treated them as if they was her children. Mrs. Busbey was a member of the Hill Top Holiness Church in Peace Valley.  
She is survived by her husband John Busbey, seven children, Dewayne Busbey and wife, Mary, Peace Valley, Missouri, Danny Busbey ,Peace Valley, Missouri, Rusty Busbey and wife Brenda, Peace Valley, Missouri, Lee Busbey and wife Julie, Mountain View, Missouri, Roy Busbey, Peace Valley, Missouri, Connie Tucker and husband Brad, Mountain View, Missouri and Tena Harden, Peace Valley, Missouri, 20 grandchildren Justin Busbey and wife Tiffany, Trish Martin and husband Carl, Ethan Busbey and wife Ericka, Wesley Duckett and wife Alex, Christina Duckett, Matthew Busbey and girlfriend Brittnee, Cheyenne Busbey, Billie Kendrick and husband Adam, Katie Busbey, Bethany Busbey, Tiffany King and husband Travis, Dillon Busbey and wife Kim, Jake, Cody and Shelby Summers, Joey Busbey, Carolina Tucker, Dakota Tucker and girlfriend Megan, Shane Harden and girlfriend Jordyn, David Harden and wife Courtney and 24 great grandchildren, Landen Volner, Kyle, Cordaya and Alyssa Duckett, Mason, Aiden, Junior, Kaylee and Maria Duckett, Rosie and August Tucker, Madi Burnett, Gunnar Busbey, Hailee Martin, Remington and Rhett Busbey, Hunter Busbey, Randalynn and Raelyn Fish, Annalyn and Garreth Busbey, Peyton, Matthew and Jamey Harden, two sisters, Judy Wallander, Gail Anderson and husband Andy, three brothers, Donald Wallander and wife Pam, Dale Wallander and wife Barb, David Wallander and wife Sue.
Her parents, one daughter, Catherine Busbey, one grandson, Jonathan Busbey, one brother, Terry Wallander and one sister, Shirley McQueen preceded her in death.
Mrs. Busbey will lie in state from 5:00 until 8:00 p.m., Monday, at the Langston Street Chapel of  Robertson-Drago Funeral Home. Memorial contributions may be made to Bennett Chapel Cemetery and may be left at or mailed to Robertson-Drago Funeral Home, 211 West Main, West Plains, MO  65775.