Kendrali Joy Mayfield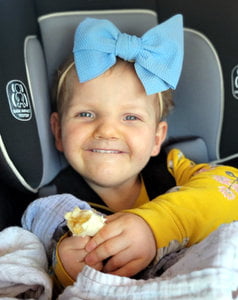 Funeral services for Kendrali Joy Mayfield, 3, West Plains, Missouri, will be held at 10:00 a.m., Monday, June 20, 2022 at the Langston Street Chapel of Robertson-Drago Funeral Home.
Kendrali went to be with Jesus the morning of Monday, June 13, 2022.
Kendrali was born September 20, 2018, at O'Fallon, Missouri, to David Mayfield and Kellanie Gordon Mayfield. Shortly after birth, Kendrali was diagnosed with 1P36 Deletion Syndrome; a rare genetic condition which greatly restructured her future. Over the course of her life, Kendrali touched many lives, and many were warmed by her smiles, her little games, and her up-stretched arms. Kendrali suffered several surgeries, many long days of sickness, and many long sleepless nights: nearly all under the loving care of her mother Kellanie, and often her Grandma or Papa. Kendrali was always Jesus's little girl, and countless prayers were prayed for her by Church family and friends. It is doubtless that because of those answered prayers, many precious memories were made with our little Kendrali.
Kendrali is survived by her parents, David and Kellanie Mayfield; two sisters, Karleah and Kiera; her grandparents; Robert and Melissa Mayfield and Timothy and Meleissa Gordon; great-grandparents, Doyle and Ann Gordon, John and Connie Wade, and Dan Tiffany; her aunts and uncles, Daniel Mayfield and wife, Joanna, Wade Gordon and wife, Hannah, Hayden Gordon and wife, Cassidy, John Robert Gordon and fiancé Hailey, Sharen Gordon, Serenity Gordon, Josh Gordon, her cousins Landon Mayfield, Blake Mayfield, Joshua Mayfield, Chera Mayfield, Zachary Mayfield, Tyler Gordon and Sierra Gordon; and a host of extended family.
Kendrali was preceded in death by her great-grandmother Roberta Tiffany, great-grandmother Lois Godbey, and great-grandfather James Mayfield.
Visitation service will be held from 6:00 until 8:00 p.m., Sunday, at the Langston Street Chapel of Robertson-Drago Funeral Home.