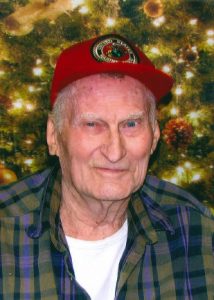 Visitation services for Kenneth M. Renner, 89, Mt. Vernon, Missouri, will be held from 1:00 until 2:00 p.m., Saturday, October 19, 2019 in the Rose Chapel at Robertson-Drago Funeral Home, West Plains, Missouri, followed by a Graveside Service at McElmurry Cemetery, Moody, Missouri.  There will be a Memorial Service held Sunday, October 20, 2019 from 12:00 Noon until 4:00 p.m., in the west meeting room at Springfield Botanical Gardens, Springfield, Missouri.
Mr. Renner passed away September 30, 2019 at Missouri Veterans Home.
He was born June 5, 1930, in Howell County, Missouri, to Clifford William Renner and Elsie Lillian Newberry Renner.  Kenneth graduated from West Plains High School in 1948 and went on to attend Southwest Missouri State University for two years before joining the Marine Corp.  He served four years with the United States Marines before returning to complete his undergraduate degree in education in 1955.  In 1961, he completed a Master's degree in education at Colorado State College in Greeley, Colorado.  In 1953, Kenneth married Darlene Bryson of Howell County, Missouri.  He taught Industrial Arts and Math in Cabool for two years starting in 1955 and taught for another two years at School of the Ozarks.  In 1959 Mr. Renner began teaching in the Springfield Public School district, remaining there until his retirement in 1987.  Kenneth had interests in nature, traveling, fishing, electronics and gardening, but his passion was woodworking, making furniture, toys and other items for his family and friends.
He is survived by his former wife, Darlene Bryson Renner; his children, Ann Renner and husband, John Luther, Ellen Renner and husband, William Richardson, Susan Purvin and husband, Gary; and his grandchildren, Kit Richardson, Katherine Purvin and Eric Purvin.
His parents and two brothers, William Tolbert Renner and Richard Vernon Renner, preceded him in death.
Memorial contributions may be made to Dickerson Park Zoo, 3043 N. Fort, Springfield, MO 65803, McElmurry Cemetery Fund, (May be left at Robertson-Drago Funeral Home) Missouri Institute of Natural Science, 2327 W. Farm Road 190, Springfield, MO 65810, Springfield Nature Center c/oMissouri Conservation Heritage Foundation, PO Box 366, Jefferson City, MO 65102-0366, Ozarks Public Television, 901 S. National Ave., Springfield, MO 65897 or Veterans of Foreign Wars 406 W. 34th Street, Kansas City, MO 64111; any memorial contributions may be left at Robertson-Drago Funeral Home.