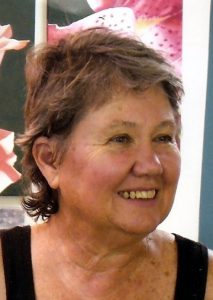 Patricia Sue Hight, 72, West Plains, passed from this earth at 3:30 p.m. on September 11, 2019 from complications related to metastatic breast cancer. She died at home surrounded by loving family and friends who sang her on her way.
A celebration of Pat's life will be on Sunday, October 20, 2019 at 2:00 p.m. in the Langston Street Chapel of Robertson-Drago Funeral Home, 120 Langston Avenue, West Plains, Missouri. Refreshments and visiting will follow the service.
Pat was born July 1, 1947, in Springfield, Missouri to Mae Lavonne Jones Hight and Earl Edward Hight, and was preceded in death by her parents, her brother Richard "Bub" Hight and her father in law Clarence Bruenjes. Her revered elder was her Grandma Virgie.
She is survived by her wife Lois Reborne, her brother Dan Hight and his partner Sheryl Reed, longtime friend Marideth Sisco, her chosen children Jim Markley, Lisa Markley and Amy Markley Watson, grandchildren Adrianna, Alayanna, Evan and Lilah, and great-grandchildren Jaxon and Ava; and beloved family including uncle Dale Jones, cousins Bill Jones, Shelly Jones and Sue Burrell and niece Melissa Hight. She also leaves behind countless dear friends including a bevy of cherished fellow artists.
Those who knew her knew she liked hats, which was good, because she wore so many of them: Potter, Teaching Artist, Printmaker, Drummer, Feminist Humanist, Unitarian Universalist, Naturalist, Storyteller, and unabashed Progressive.
She was also a finalist for the National Merit Scholarship, earning a scholarship to Washington University where she studied the History of Ideas for three years, but left when her scholarship would not support her desire to also study art. She finished her BFA degree at Missouri State University in 1985.  Some of her more far-reaching contributions include the role of founding member of both the Missouri Friends of the Folk Arts and the Midwest Wimmin's Festival, and as a consultant to the founders of the Michigan Womyn's Festival.  Pat was a teaching artist for more than fifteen years, working as an artist in residence in local schools. She loved to conduct raku firings for school art classes, community art fairs and for local folks either on her farm or at the Hammond Mill picnic grounds overlooking the North Fork River. She also taught as a Master Naturalist and artist, encouraging hundreds of youngsters to use a kick net in a local river to catch and identify macroinvertebrates, to make sketches of plants and bugs they found in their schoolyards, then make those into linoleum block prints, and to draw with charcoal sticks in the style of L. L. Broadfoot at the Harlin Museum.
The family extends its endless gratitude to the oncology team at OMC. Your expertise, care, and compassion made all the difference to us. Pat's persistence and energy combined with the excellent treatment she was prescribed gave her nearly six years of life which she otherwise might never have had, where she continued to create art, grow vegetables and flowers, kayak the local rivers, travel, and enjoy the birds and trees and people she loved. You are ever in our hearts.
In lieu of flowers, donations to defray final expenses are much appreciated and may be left at Robertson Drago Funeral Home or brought to the service.
We will always love you, dear Pat. We will never forget you.