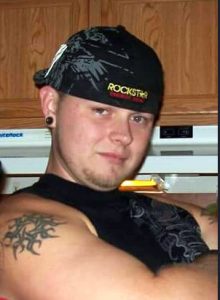 Kevin Mikel Martin, 28, West Plains, Missouri, passed away at 5:19 a.m., Sunday, May 22, 2016 at his home.
He was born February 7, 1988, at Lawton, Oklahoma, to Kenneth Terrill Martin and Diana Michelle (Medley) Younger.  Kevin graduated from Willow Springs High School with the Class of 2007 and on May 6, 2012, met his wife, Victoria "Tori" (Hicks) Martin.  He enjoyed fishing, camping and cooking and had a passion for artwork, tattoos, auto body painting and working on cars.  He loved spending time with his family and his dog, Roxy.
He is survived by his wife, Tori Martin; two daughters, Rylan and Addy, his parents, Kenneth Martin and Diana Younger; one brother, Terry Martin; paternal grandparents, Charles and Jennifer Martin; one nephew, Caleb Martin; his step-parents; numerous step-siblings and extended family; and many, many friends.
His maternal grandparents, Deneise Boyd and Joe Medley, precede him in death.
Memorial contributions may be made to the family and may be left at Robertson-Drago Funeral Home.