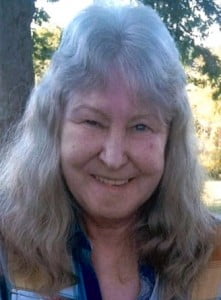 A memorial service for Linda Faye Brixey, 64, Willow Springs, Missouri, will be held at 2:00 p.m., Wednesday, December 30, 2015 at Bethel Community Church, Willow Springs.
Mrs. Brixey passed away at 7:34 a.m., Friday, December 25, 2015 at Ozarks Medical Center.
She was born September 21, 1951, at Willow Springs, Missouri, to Hargil and Evelyn Collins.  On June 9, 1990, she was married at Willow Springs, Missouri, to Kenneth Brixey, who preceded her in death on April 19, 2001.    Mrs. Brixey enjoyed her family and friends and loved to play on her computer.  She took much pride in her grandchildren and their activities.  Mrs. Brixey was a very loving and caring person and contributed faithfully to many organizations.  She was a woman that loved the Lord and had a lot of faith.
She is survived by three children, Rhonda Collins and husband, Brian, Jimmy Daum and wife, Rene and Mandy Grindstaff and husband Mike; six grandchildren, Christina Collins, Kayla Collins, Carrie Collins, Michael Grindstaff, Dakota Grindstaff and Nathaniel Grindstaff; three great-grandchildren, Tyler, Haley and Connor Collins; her mother, Evelyn Mayton; one sister, Kay Wood and husband, Lee; and many nieces and nephews.
Her father, husband, three brothers, Kenny, Lynn "Bim" and Mikey Collins and three sisters, Connie Fry, Judy Bunch and Vickie Lemon, precede her in death.
Arrangements under the direction of Robertson-Drago Funeral Home.