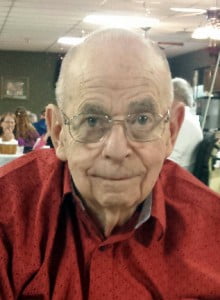 A memorial service for William Earl Holliday, 86, West Plains, Missouri, will be held at 11:00 a.m., Wednesday, December 30, 2015 at St. Paul Lutheran Church.
Mr. Holliday passed away at 2:35 p.m., Monday, December 21, 2015 at NHC Healthcare.
He was born June 16, 1929, in Lee County, Illinois, to Wade Holliday and Daisy Baird Holliday.  Mr. Holliday was a veteran, having served with the United States Army during the Korean conflict.  He worked at Marathon Electric (now known as Regal) for thirty-three years.  He transferred from the Illinois plant in October of 1976 to West Plains.  Mr. Holliday was a hard core St. Louis Cardinals fan and enjoyed being outdoors and watching birds.  He loved his pet cat, Louie.
He is survived by his wife, Elizabeth Holliday, of the family home; four children, Kim Rose and husband, Robert, State of Illinois, Gary Holliday and wife, Jody, Ottawa, Illinois, Kari Moore and husband, Wesley, West Plains, Missouri and Timothy Holliday and wife, Christy, Monument, Colorado; eleven grandchildren; six great-grandchildren; two sisters, Dorothy May Boltz, State of Wisconsin and Eloise Tarr, Earlville, Illinois; and several nieces and nephews.
His parents, one daughter, Jan Holliday, two grandchildren, four brothers and one sister, precede him in death.
Memorial contributions may be made to the St. Paul Lutheran Church and may be left at Robertson-Drago Funeral Home.