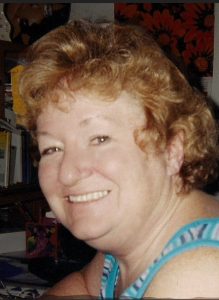 Funeral services for Linda "Joan" Gentry Rose, 66, West Plains, Missouri, will be held at 2:00 p.m., Sunday, July 24, 2016 in the Rose Chapel at Robertson-Drago Funeral Home.
Mrs. Rose quietly passed away at 2:30 p.m. on Tuesday, July 19, 2016, in her home following a long and courageous battle against both lung cancer and leukemia.
Joan was born September 17, 1949 in Lyons, Kansas to June Lewis and was raised by her grandparents, Robert and Rachel Cannon. She graduated high school from West Plains Senior High in 1967.  On December 25, 1976, she married David Lee Gentry and begat two children, after which the marriage conceded. She was then introduced to Lloyd Robert Rose, Jr. who courted her for twenty years until they were united in holy matrimony in 2006. Lloyd preceded her in death on April 4, 2016.  During her lifetime, Joan was a respiratory therapist for thirty-five years. She loved all types of animals, making homemade jewelry, gardening, traveling and especially being a proud mother and grandmother. Joan was a loyal, longtime member of the First Baptist Church of West Plains.
She is survived by three children: daughter Dawna Gravley and husband Corbin, of Tucson, Arizona; Phillip Gentry and partner, Sonia Holt, of West Plains, Missouri; and Willie Gentry and partner, Rhonda Byers, of Portland, Oregon. She is also survived by four granddaughters: Chelsie Thornton, whom she raised and who lived with her as a daughter, Shelby Cockrum, Danerys Gravley, and Alexa Gentry. Furthermore, she is survived by four siblings: Bill Lewis and wife Jan of Monroe City, MO; Brenda Griffin and husband, Ed of West Plains, MO; Walter James Lewis and wife, Sabrina of Wentzville, MO; and Jana Mayle, also of West Plains, MO.  She was blessed by many nieces and nephews.
Visitation will be from 6:00 until 8:00 p.m., Saturday, at Robertson-Drago Funeral Home. Burial will be in the New Liberty Cemetery. Memorial contributions may be made to the West Plains Regional Animal Shelter or to the Siteman Cancer Center at Barnes-Jewish Hospital in St. Louis, Missouri, and may be left at Robertson-Drago Funeral Home.