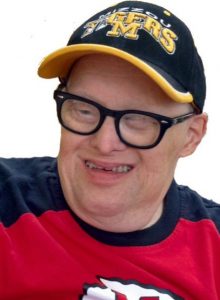 Funeral services for Ronald (Ronnie) James Brixey, 67, St. Charles, Missouri, formerly of West Plains, will be held at 10:00 a.m., Saturday, July 23, 2016 in the Rose Chapel at Robertson-Drago Funeral Home.
Ronnie died Monday, July 18, 2016, at Barnes Jewish Hospital, St. Peters, Missouri.  He was born April 23, 1949 at Kansas City, Missouri to Fred James Brixey and Agnes Wood Brixey. Ronnie enjoyed watching the re-runs of the Gomer Pyle TV shows, loved to sing and was a Kansas City Chiefs fan. He recently received a special visit by the Kansas City Wolf, the mascot for the Kansas City Chiefs. He was a jolly person, never knew a stranger and had a smile for everyone. Ronnie would salute the men, shake their hands and would kiss the ladies hands.
He is survived by his mother, Agnes Brixey, St. Charles, Missouri; his aunt, Oralee Cearley; and cousins, Barbara Ledford and Carolyn Hoover.
His father and one brother, Dennis Brixey, precede him in death.
Visitation will be from 6:00 until 7:00 p.m., Friday, at Robertson-Drago Funeral Home. Burial will be in the Howell Memorial Park Cemetery.