Linda Lee (Godat) Robison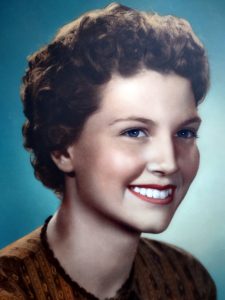 Linda Lee (Godat) Robison, of Dora, Missouri, passed away peacefully with her family surrounding her on February 23, 2022, at the age of eighty-one.
She was born in Howell County, Missouri, on March 16, 1940, and the family moved to Oregon in 1952. They settled in Bridal Vail, Oregon, a small mill town in the Columbia River Gorge. She attended Corbett High School in Corbett, Oregon. At nineteen years old, she moved to Zion, Illinois, where she had met her lifelong love, Harold Robison. They were married in Kenosha, Wisconsin, on March 16, 1960, and they settled in Zion to raise their family. Linda devoted her life to her husband and children and was an extraordinary homemaker. Entirely self-taught, she perfected home-cooked meals and was a gifted seamstress. She was a master at sewing beautiful clothes, costumes, curtains, and quilts. Keeping a beautiful house and a yard full of flowers was another passion. Her gardens were always something to see. She loved animals and never lived without them. One summer, she even raised a motherless baby raccoon. She always remained a true country girl at heart. A huge advocate of education, she raised her children to value learning and all of them were first generation graduates of college. She was a walking encyclopedia of knowledge about all these topics and countless people leaned on her understanding of them. She was a member of First Baptist Church in Zion, Illinois, and later attended several Primitive Baptist churches.
Linda is survived by Harold, her husband of almost sixty-two years, of Dora, Missouri; her son Wade (Margie) of Zion, Illinois, her son Mark of Zion, Illinois, her daughter, Nina (David) of Zion, Illinois, her son Michael (Becky) of Kenosha, Wisconsin; twelve grandchildren, Olyvia (Quentin), Jillian (Como), Natania (Junoh), Isabella, Jesse, Elena, Josiah, William, Joshua, Jack, Ian and Charlie; two great-grandchildren, Emmanuel and Genevieve; two brothers, Harold (Kathy) of Prineville, Oregon, and Richard of Portland, Oregon; one sister: Suzy of Prineville, Oregon; and many more nieces, nephews and other family.
Preceding her in death were her parents, Harold Maurice Godat and Edna Anna (Downen) Godat, her baby brother Stephen, and her brothers Robert and Curtis.
She will be buried at Mount Olivet Cemetery in Zion, Illinois, and a private family service will be held.