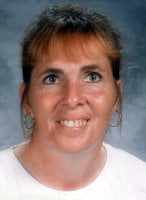 Funeral services for Linda Marie McBride, 59, West Plains, Missouri, will be held at 10:00 a.m., Wednesday, September 7, 2016 in the Rose Chapel, Robertson-Drago Funeral Home.
Mrs. McBride died 7:26 p.m., Saturday, September 3, 2016 at her home. She was born July 11, 1957 to Luther Davidson and Allie Provow Davidson. She graduated from the West Plains High School with the Class of 1975 and on August 8, 1980 was married at West Plains, Missouri to Jim McBride. Mrs. McBride had been employed at the Junction Hill School. She was a Christian.
She is survived by her husband, Jim McBride, of the family home; three sons, Travis McBride, wife, Erin, Jason McBride, wife, Sarah and Danny McBride, wife, Dessa, all of West Plains, Missouri; four grandchildren, Addalynn, Jaylee, Cailyn and Liam; one brother, Arnold Davidson, wife, KyongCha, Springfield, Missouri; four sisters, Charlotte Warren, husband, Dennis and Christine Collins, husband, Mike, Sharon Davidson, all of West Plains, Missouri and Pauline Tucker, Bolivar, Missouri; and several nieces and nephews.
Her parents and one sister, Elilene Nichols, preceded her in death.
Visitation will be from 6:00 until 8:00 p.m., Tuesday, September 6th, at Robertson-Drago Funeral Home. Burial will be in the Howell Valley Cemetery. Memorial contributions may be made to the St. Judes Children's Hospital and may be left at Robertson-Drago Funeral Home.