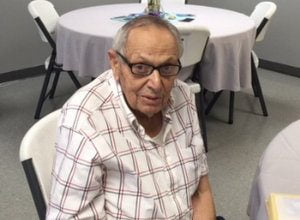 Funeral services for Norman Clayton Smith, 91, Peace Valley, Missouri, will be held at 10:00 a.m., Monday, September 5, 2016 in the Rose Chapel, Robertson-Drago Funeral Home.
Mr. Smith died 6:00 a.m., Friday, September 2, 2016 at his home. He was born July 14, 1925 at Peace Valley, Missouri to Frank Arthur Smith and Ether Fannie Bennett Smith. He graduated from the Peace Valley High School and on September 5, 1945 was married at Peace Valley, Missouri to Dorothy Evelyn Payne who preceded him in death on July 24, 2010. Mr. Smith was a veteran of the United States Army having served during World War II in the Occupation of Japan. He was a well known beef and dairy farmer in the Peace Valley area. Mr. Smith was a licensed auctioneer; he loved to play baseball and basketball and enjoyed hunting, fishing and frogging. Also, he enjoyed singing at the area nursing homes. Mr. Smith was a member of the Assembly of God Church.
He is survived by four children, Eugene Smith, wife, Rose, Peace Valley, Missouri, Judy Green, husband, Bob, West Plains, Missouri, Jana Greenwood, St. Robert, Missouri and Ruthanne "Andi" Scheets, husband, Bruce, Houston, Missouri; eleven grandchildren, Joshua Smith, wife, Kim, Jacob Smith, wife, Amy, Aleeza Maciariello, husband Pat, Adam Green, wife, Alicia, Aaron Fullerton, wife, Tara, Jenny Pina, husband, Luke, Ty Scheets, wife, Becca, Tanner Scheets,, wife, Chyenne, Camryn Scheets, Ryan Mardock and Savanna Mardock; twelve great-grandchildren, Avery, Anorah, Selah and Milanah Smith, Callie and Reese Maciariello, Allison, Aubrie and Vivian Green, Seth, Grant and Laken Fullerton; three step grandchildren, Tabbi McCallister, husband, Terry, Jarid Scheets, wife, Jennifer and Heather Chowning; eleven step great-grandchildren; two step great-great-grandchildren; one brother, Ed Smith, Holden, Missouri; one sister, Vivian DeShazo, Lakeland, Florida; daughter-in-law, Suzanne Smith; sister-in-law, Sally Smith; and several nieces and nephews.
His parents, wife, son, Frank Edward Smith, daughter-in-law, Reba Smith, three sons-in-law, Ricky Fullerton, Bob Bulen and Gary Downen and two brothers, Mancil and Wendell Smith, precede him in death.
Mr. Smith will lie in state from 4:00 p.m., Sunday, September 5th, until service time at Robertson-Drago Funeral Home. Burial will be in the New Hope Cemetery, Peace Valley, Missouri Memorial contributions may be made to the New Hope Cemetery and left at Robertson-Drago Funeral Home.