Lois Ellen Newton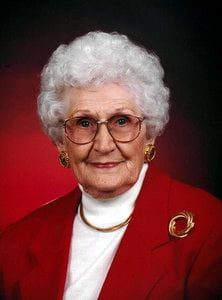 Funeral services for Lois Newton, 101 years and ten months, West Plains, Missouri, will be held at 2:00 p.m., Friday, February 5, 2021 in the Rose Chapel at Robertson-Drago Funeral Home.
Lois Ellen Newton departed this life on February 1, 2021.
She was born in Moko, Arkansas on April 1, 1919 to Jessie Blaine and Mary Louella Haslett Skaggs. The family moved to a farm near Fanchon, Missouri. Lois attended Barnett grade school and West Plains High School, graduating in 1938.  Lois married Roy "Shaddy" Newton on December 14, 1941 in Hartville Missouri. The couple lived in Willow Springs where they operated a café and moved to West Plains in 1951.   The Newton's welcomed two children, daughter Sandy and son Michael Shaddy Newton. Lois was always active in the lives of her children. She was a Brownie and Girl Scout leader. She was an active member of the PTA for Carmichael Elementary, where she served as President and attended state PTA conferences in Jefferson City. Lois was an active member of Howell County Extension Clubs.  Lois enjoyed a long career as a salesperson in men's clothing in West Plains. She made many friendships and enjoyed mothers shopping with their sons and watching them grow up. She was known for her sense of style and always dressed "to the nines".  Lois and Shaddy were accomplished Bridge players and made many lifelong friendships over card games. She was an avid Zizzer fan and never missed any of her son, Mike's football games. She would rival the noise of the cheerleaders with her cheers for he and his teammates. The Newton's always welcomed their children's friends into their home. Many have shared their stories and fond memories of fun times in the Newton home.  Lois took great pride in her work to canvas the area to raise funds to be used to establish what would become West Plains Memorial Hospital.  Lois, Shaddy and their children were baptized at First Christian Church West Plains. She later attended Free Will Baptist and First Baptist Church. She enjoyed attending Sunday school at First Baptist Church with her beloved little sister, Dee, and was good friends with class leader, Betty Paschall.  Lois celebrated her 100th birthday with a surprise party attended by over 100 friends and family. She was blessed to remain in her own home with the loving support of caregivers until after her Centennial birthday. She made her home the past 1 ½ years at the West Vue Flowering Dogwood House, in the care of very loving and caring staff.  At the time of Lois' passing, she was the oldest surviving member of a special family group of double cousins, which was the result of three Skaggs brothers joining in marriage to three Haslett sisters. That torch now passes to a very special double cousin, Gracie Stephens.
Mrs. Newton was preceded in death by her husband Shaddy in 1990, her parents, all of her siblings: Buford Skaggs, Buena Javaux, Emble Pengrie, Vestie Skaggs, and Delores "Dee" Doss, her son in law Jerry Cherry, and a multitude of friends and other relatives.
She is survived by her daughter, Sandy Cherry and her daughters, Tracie and Amber Cherry of West Plains; Her son, Mike Newton and wife Sheila and their children, Amanda (Brett) Mitchell of Dora, Adie Williams of Springfield, Jimmy (Julie) Miller of West Plains, Emily (Brad) Forth of St. Louis, and Sam (Kayla) Miller of West Plains; thirteen great-grandchildren; two great-great-grandchildren; and several nieces and nephews.  . Lois is also survived by an incredibly special niece, Katherine Skaggs Bray, who was close in age and heart growing up, having a relationship more like sisters, than that of Aunt and niece. They spoke daily by telephone for decades.
Mrs. Newton will lie in state from 5:00 until 7:00 p.m., Thursday at Robertson-Drago Funeral Home.  A private graveside service will follow for immediate family at Howell Memorial Park Cemetery.  Memorial contributions may be made to St. Jude's Children's Research Hospital or American Diabetes Association and may be left at or mailed to Robertson-Drago Funeral Home, 211 West Main, West Plains, MO  65775.