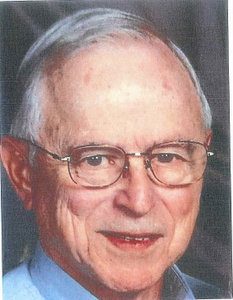 Funeral services for Lt. Col. Robert N. Alter (USAF Ret.) 97, West Plains, Missouri, will be held 3:00 p.m., Thursday, November 29, 2018 at St. Mary's Catholic Church under the direction of Robertson-Drago Funeral Home.
On the evening of November 19, 2018, Lt. Col. Robert N. Alter passed away quietly at his home in the presence of several of his children, about one month short of his 98th birthday. Robert was born on Christmas Day, 1920, in Ft. Wayne, Indiana where he lived until 1941 when he enlisted in the U.S. Army.  He became an officer and pilot in the Army Air Corp.  He served with distinction in the Pacific Theatre where he was awarded the Distinguished Flying Cross, Air Medal with 2 Oak Leaf Clusters, Purple Heart, Asiatic-Pacific Campaign Medal, American Campaign Medal, WWII Victory Medal, National Defense Service Medal, Armed Forces Reserved Medal.  Upon returning to the United States in 1944, he married his high school sweetheart, Phyllis Eileen Ross, and began a family, while continuing service in the Air Corp, as a pilot and test pilot.  He left military service briefly following the end of the War, but returned to the newly formed US Air Force where he received training at MIT to become a meteorologist.  He practiced his new profession most of the remainder of his military career while continuing to remain on active duty flight status as a pilot.  Beside his wartime duty, he served his country overseas in North Africa, Japan, and the Philippines; and stateside in Georgia, Arizona, Texas and Louisiana. Upon his retirement from the Air Force in 1964, he, Eileen and 9 of their 10 children moved to West Plains.  He built a home and small cattle ranch on property he had purchased in Missouri while still in the Air Force.  During that time, he also initiated and commanded the ROTC program at the West Plains High School.
Robert and Eileen where married for 65 years, until her death in 2010.  They leave behind 10 children: Robert J. Alter, Washington, D.C., Joyce Pool, Linda Cromer, James Alter and Debbie Altizer, all of Springfield, Missouri, Susan Knight and Marilyn Gordon, both of West Plains, Missouri, Karen Perry, Camdenton, Missouri, Sharon Dishman, Athens, Georgia, and Janet Thompson, Kimberling City, Missouri;  20 grandchildren; and 28 great-grandchildren.
The "Colonel's" body will be taken to join that of his loving wife at the Missouri State Veteran's Cemetery in Springfield, Missouri; a military service will be held on Friday, November 30th at 11:00 a.m.
Memorial contributions may be made to the Honor Flight Of The Ozarks (honorflightoftheozarks.org) with the statement "Donated in memory of Lt. Col. Robert N. Alter" to ensure 100% goes to the honor flight program; another option is the Convoy of Hope (convoyofhope.org); and may be left at Robertson-Drago Funeral Home.