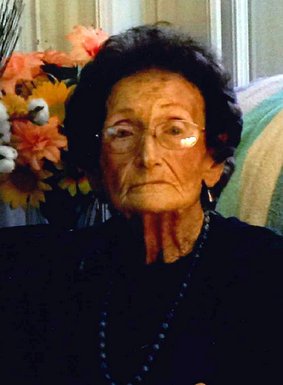 Funeral services for Mackie Jean Williams, 89, Caulfield, Missouri will be held at 11:00 a.m., Wednesday, December 24, 2014, at Fowler Cemetery, under the direction of Robertson-Drago Funeral Home.
Mrs. Williams died at 5:00 a.m., Tuesday, December 23, 2014, at Ozarks Medical Center.
She was born July 10, 1925, in Ozark County, Missouri, to Zaddock Postle and Veretta Wheeler Postle.  On May 26, 1945, she was married at Salem, Arkansas, to James Oscar Williams, who preceded her in death on May 30, 1986.  She enjoyed gardening and taking care of others.  Mrs. Williams was a member of the Church of Christ.
She is survived by ten children, Jim Williams, wife, Linda, Pottersville, Missouri, Jerry Williams, wife, Sandra, Caulfield, Missouri, Jack Williams, wife, Connie, Caulfield, Missouri, Joy Brazeal, husband, Cecil, Brandsville, Missouri, Vic Williams, wife Kathy, Caulfield, Missouri, Gary Williams, wife, Cindy, Caulfield, Missouri, Larry Williams, wife, Kathy, Wheatland, Missouri, Betty Riley, husband, Scott, Caulfield, Missouri, Randy Williams, wife, Audrey, Buffalo, Missouri and Linda Hoover, husband, Rick, West Plains, Missouri; many grandchildren, great-grandchildren and great-great-grandchildren; and one sister, Dixie Tilman, St. Joseph, Missouri.
Her parents, husband, one son, Jared Williams and one daughter-in-law, Meril Williams, precede her in death.
Memorial contributions may be made to Fair Haven Children's Home, and may be left at Robertson-Drago Funeral Home.