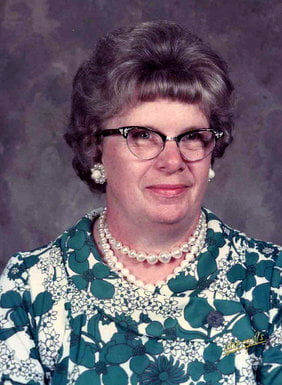 Graveside services for Marian Eileen Reichardt, 93, West Plains, Missouri will be held at 2:00 p.m., Wednesday, January 14, 2015, at Oak Lawn Cemetery, under the direction of Robertson-Drago Funeral Home.
Mrs. Reichardt died at 5:08 p.m., Saturday, January 10, 2015, at Ozarks Medical Center.
She was born March 25, 1921 at Salem, Arkansas, to Harry Ferguson and Lillie Annabelle Woods Ferguson. On January 1, 1938, she was married to Archie Johnson and on September 25, 1961, she was married to Charlie Reichardt. Mrs. Reichardt enjoyed spending time with her family and was of the Pentecostal faith.
She is survived by four children, Bonnie West, Scott City, Kansas, Gary Johnson, wife, Sally, West Plains, Harry "Fuzzy" Johnson, wife, Rose, Kinsley, Kansas and Linda Polzin, husband, Marvin, West Plains; twelve grandchildren; six step-grandchildren; thirty-nine great-grandchildren; several great-great-grandchildren; one brother, Jack Ferguson, wife, Margaret, Wynnewood, Oklahoma; one sister, Madge Westfall, Great Bend, Kansas; and several nieces and nephews.
Her parents, husbands, two brothers, Bob Ferguson and Earl Ferguson and two sisters, Inez Lamons and Martha Snyder, precede her in death .
Visitation will be held from 6:00 until 8:00 p.m., Tuesday at Robertson-Drago Funeral Home. Memorial contributions may be made to the TV/38 Light the World Ministries, and may be left at Robertson-Drago Funeral Home.