Mary E. Kintner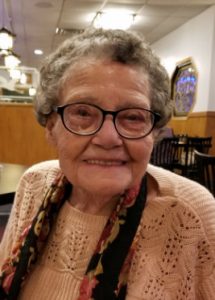 It is with the deepest regret and heartbreak that we must share the passing of our beautiful mother, Mary Eldalie Stephens Kintner, at her West Plains, Missouri home in the early hours of April 16, 2020.   She was 93 years old, and had been ill and cared for by family and Riverways Hospice for the last few months. Her loss cuts deep, and no one will ever fill the huge hole in the hearts of this community. We are grateful, though, that she is out of pain and at peace with her late husband, Clifford Eugene Kintner, Junior, who passed away in 2002. 
Mary was born in Pottersville, Missouri on August 24, 1926, to Orval Hartford and Annie Nell Stephens.   She was a graduate of West Plains High School and took nurses training at the old Christa Hogan Hospital in town.  She later married Clifford and together they traveled cross country with his job in the Navy.  After his retirement from the service, they returned home to West Plains in 1976.
She is survived by her three children, Stephen Kintner, Carmen (Kintner) Barry, and Teresa Kintner Gunderson, and grandsons Christopher, Clifford and Gabriel.
When we are able to gather in large groups again there will be a celebration of life service. She will be interred with her beloved husband in Oak Lawn Cemetery.
In lieu of flowers, memorial contributions may be made to St. Jude's Children's Research Hospital and may be left at or mailed to Robertson-Drago Funeral Home, 211 W. Main, West Plains, MO  65775.