Max Vaughan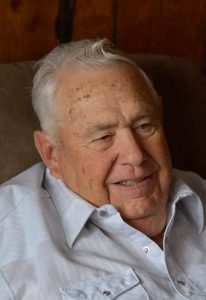 Funeral services for Max Vaughan, 90, Bakersfield, Missouri, will be held at 2:00 p.m., Monday, July 19, 2021 at the Full Gospel Church, in Bakersfield, under the direction of Robertson-Drago Funeral Home.

Mr. Vaughan passed away at 9:00a.m., Friday, July 16, 2021, at his home.

He was born January 15, 1931,at Leota, Missouri to Oliver Edward Vaughan and Ozella Lee (Alexander) Vaughan. On March 8, 1958, he was married to Elaine (Turner) Vaughan. Max enjoyed raising livestock and joking with people to get a good laugh. Max was a lawman. He served his community of Ozark county as a Sheriff's Deputy and then later as the Sheriff of Ozark county. Max was a member of the Full Gospel Church in Bakersfield.

He is survived by his wife, Elaine Vaughan, of the family home; three children, Kenny Vaughan, Bakersfield, Missouri, Keith Vaughan and wife, Linda, Cabool, Missouri and Kevin Vaughan, Bakersfield, Missouri; one sister, Bonnie Carlile, Koshkonong, Missouri; grandchildren, Shannon Bridges, Kara Heitman, Katie Vaughan, Sam Vaughan, Sarah Middleton, Shelby Kingston, Joe Vaughan and Seven great grandchildren.

His parents, one son, Brian Kelly Vaughan, four brothers, Sherwood, Bob, Otis and Orvis Vaughan, three sisters, Marjorie Cockrum, Maxine Vaughan and Opal Hicks preceded him in death.

Visitation will be held from 1:00 until 2:00 p.m., Monday, at the Full Gospel Church. Burial will be in the Bakersfield Cemetery. Memorial contributions may be made to Bakersfield Cemetery and may be left at or mailed to Robertson-Drago Funeral Home, 211 West Main, West Plains, MO 65775. Online condolences July be expressed at www.robertsondrago.com.