Myrtle Geneva Hensley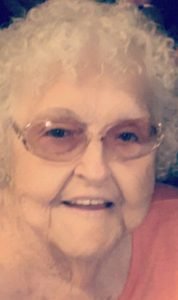 Funeral services for Myrtle Geneva Hensley, 96, Elijah, Missouri, will be held at 2:00 p.m., Sunday, October 10, 2021 in the Rose Chapel of Robertson-Drago Funeral Home.  
Mrs. Hensley passed away at 3:55 a.m., Wednesday, October 6, 2021, at West Vue Nursing Center.  
She was born June 24, 1925 at Elijah, Missouri, the daughter of Willis Marion Tackitt and Martha Hill Tackitt.  On October 5, 1946, she was married at Mountain Home, Arkansas to Melvin Hensley, who preceded her in death August 17, 1987.  Anyone who knew Myrtle knew her love for Jesus, her family, and her friends.  She lived a life filled with grace and forgiveness.  She was dedicated to the Lord and His word which shaped the beautiful soul that she was.  She kept an open door and helped anyone in need, often doing for others before herself.  Myrtle loved to crochet, paint, color, solve word puzzles, and play board games with her grandchildren. She was an amazing cook, and was famous for her fried pies, biscuits, cornbread, Christmas candy, pickles, jelly, and jam, which were all the best in the country.  Myrtle loved to fish, especially with her grandchildren, many of whom she taught how to fish, and she could out-fish most anyone she was with. She also loved flowers and landscaping, her yard was always filled with a variety of beautiful flowers and flower beds.  Myrtle passed on many lessons to her loved ones that will live on in her memory forever.  Her warm heart and her words "I love you" will never be forgotten.  She was a member of the Elijah Church of Christ.
She is survived by four children, Darrell Hensley, Pottersville, Missouri, Kenneth Hensley and wife, Dawna, West Plains, Missouri, Larry Hensley and wife, Rosalea, Caulfield, Missouri, and Laura June Mapes, Caulfield, Missouri;  twelve grandchildren, Dewayne Williams, Regina Perry (David), Vera Beavers (Robbie), Tracy Seats (Dewayne), Casey Hensley (Christina), Stacy Hensley (Stephanie), Justin George (April), Jeremiah Hensley (Keeoma), Courtney Gale, Dawn Hensley, Melanie Lackey (Jason), and Jessica Hurst (Alan); thirty-three great-grandchildren; twelve great-great-grandchildren; one brother, Billy Joe Tackitt and wife, Patsy, Caulfield, Missouri; one sister, Blanche Langston-Harden, Caulfield, Missouri; one sister-in-law, Edie Tackitt; and a host of  beloved nieces and nephews.
Her parents, husband, one daughter, Meryl Ann Williams, one grandson, Jamey Hensley, one daughter-in-law, Peggy Hensley, two sons-in-law Jimmie Williams and Ralph Mapes, one granddaughter-in-law, Belinda Williams, two brothers, J. B. and Lee Olen Tackitt, and six sisters, Jewell Tackitt, Snowie Spoon, Esther Langston, Katherine Tackitt, Doris Bonham, and Pauline Bean preceded her in death.  
Visitation will be from 6:00 to 8:00 p.m., Saturday, at Robertson-Drago Funeral Home.  Burial will be at Fowler Cemetery.  Memorial contributions may be made to Fowler Cemetery and may be left at or mailed to Robertson-Drago Funeral Home, 211 West Main, West Plains, MO  65775.