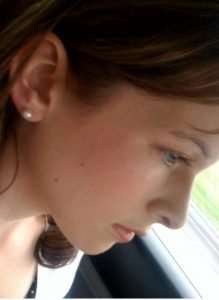 Funeral services for Nicole Jean Hunter Mostafa, 33, of Riyadh, Saudi Arabia, formerly of Koshkonong, Missouri, will be held at 2:00 p.m., Sunday, October 30, 2016 at Koshkonong High School, under the direction of Robertson-Drago Funeral Home.
Nicole departed this earthly life on October 23, 2016, at Riyadh, Saudi Arabia with her husband, Saleh and her mother, Emma Hunter at her side.
She was born August 20, 1983, at West Plains, Missouri, to C. W. Hunter and Emma Tellez Hunter.  On July 30, 2011, she was married at Springfield, Missouri, to Saleh Mostafa.  Nicole graduated from Koshkonong High School, earned two Bachelor's Degrees at University of Missouri, Columbia, Missouri, two Master's Degrees from Missouri State University, Springfield, Missouri and was finishing her Doctorate at Kansas State University where she was a teacher and assistant professor.  Nicole enjoyed writing on her blog "the same rainbow's end" where she brought people together from all around the world.  She loved educating the minds of the young and old.  Nicole was always smiling.  She had a warm and loving heart and was always thoughtful. Caring for others was important to her.  Nicole has touched many people all around the world during her lifetime and she will be loved and missed forever.
She is survived by her husband, Saleh; two daughters, Lavender and Juliet; her parents, C. W. and Emma Hunter; one brother, Carl Hunter and wife, Brittany and their two children, Cole and Jaycee; her other parents, Mohammed Mostafa and Salwa Sabri; one sister, Walaa; one brother, Suleiman; and several aunts, uncles and cousins.
Her grandparents, Carl and Phyllis Hunter and Phillip and Adeline Tellez and one uncle, Jerry Hunter, precede her in death.
Visitation will be held from 1:00 p.m. until 2:00 p.m., Sunday, at Koshkonong High School.  Burial will be in the family's cemetery.  Memorial contributions may be made to the Nicole Hunter Mostafa Memorial Scholarship Fund and may be left at Robertson-Drago Funeral Home.