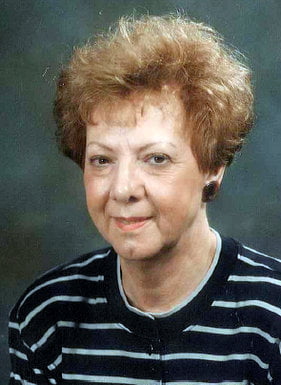 Funeral services for Norma Jacqueline Laurin, 87, West Plains, Missouri, will be held at 2:00 p.m., Wednesday, June 4, 2014, at St. Mary's Catholic Church, under  the direction of Robertson-Drago Funeral Home.
Mrs. Laurin went to be with the Lord and his family Friday, May 30, 2014, at West Vue Nursing Center.
She was born October 24, 1926, at Cornwall, Ontario, Canada, to Alfred Chouinard and Mathilda Belanger Chouinard.  Mrs. Laurin graduated from High School at the age of sixteen and then graduated from Business College.  After graduating, she worked as a secretary at a local company in Cornwall.  On March 27, 1946, she married Florian "Ryan" Laurin.  Norma continued working until the upcoming arrival of her first child.  Five years later, with three children, Norma and Ryan decided to move to the United States, where they built and operated dry cleaning plants in Clearwater and Largo, Florida.  It wasn't easy at that time to come to the United States to live; they had to be self sufficient for one year.  In 1962 Norma received her Certificate of Naturalization.  She spoke French and English fluently.  They lived in Florida for the next fifteen years before moving to West Plains, Missouri.  Later in life and ten years after the youngest child was born, Norma gave birth to her fourth child.  She was very ambitious; while raising four children and working with Ryan in the dry cleaning business, she also became a real estate agent in Florida.  After their move to West Plains, she obtained her Missouri Real Estate Agent and Broker's license.  She owned and operated Laurin Realty.  Norma worked in the real estate industry for over forty years before her retirement.  She was a founding member of the West Plains Board of Realtors, first woman in Howell County to be a board member of the Chamber of Commerce,  one of the first women to be a member of the Rotary Club and served on the board of directors at Missouri Southern Bank, now known as Wood & Huston Bank.  She enjoyed time spent with her family and friends, playing cards, traveling, reading, horses, horse racing and boating.  Mrs. Laurin was a devoted Catholic and was a member of St. Mary's Catholic Church during her time living in West Plains.
She is survived by her daughters, Suzanne Crownover and husband, Darrell, Lakeview, Arkansas, Linell Raulerson and husband, David, Micanopy, Florida and Hallie Laurin and special friend, Randy, West Plains, Missouri; five grandchildren, Greg Ransom, Rhonda Yunis, Michelle Hall, Amy Griffin and Darren Raulerson; eleven great-grandchildren; and several step-great-grandchildren; and numerous nieces and nephews living in Canada.
Her parents,  husband, son, Robin Laurin, grandson, Michael Ransom and many brothers and sisters, precede her in death.
Mrs. Laurin will lie in state at Robertson-Drago Funeral Home from 4:00 p.m., Tuesday until 11:00 a.m., Wednesday.  The family will receive their friends at St. Mary's Catholic Church beginning at 1:00 p.m., Wednesday.  Burial will be in the Oak Lawn Cemetery.  Memorial Contributions may be made to the Alzheimer's Association or St. Mary's Catholic Church, and may be left at Robertson-Drago Funeral Home.