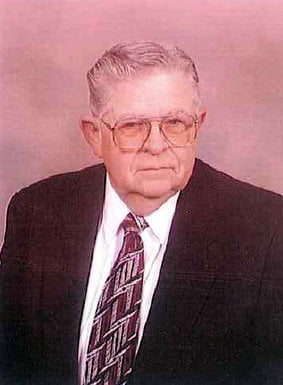 Funeral services for Norval Lee Sullivant, 85, West Plains, Missouri, will be held at 3:00 p.m., Friday, May 9, 2014, at First Baptist Church, under the direction of Robertson-Drago Funeral Home.
Mr. Sullivant died at 7:00 p.m., Saturday, May 3, 2014, at his home.
He was born January 6, 1929, at Camp, Arkansas, to Dixie Lee Sullivant and Verbie Ella Sutherland Sullivant. He attended school at Salem, Arkansas and West Plains High School. On June 2, 1951, he was married at Mammoth Spring, Arkansas, to Bonnie Ellen Napier. Mr. Sullivant was a veteran, having served with the United States Army during the Korean Conflict and was a Purple Heart recipient. He worked as a foreman at International Shoe Factory. Mr. Sullivant was the owner and operator of a shoe business in El Reno and Ponca City, Oklahoma; then later moved back to West Plains and opened the Sullivant Shoe Store on the square. He worked for West Plains R-7 School Transportation Department for several years. He and Bonnie managed Junction Hill S-Mart from 1988 until his retirement. Mr. Sullivant enjoyed his farm and restoring old tractors as well as deer hunting and fishing with his brothers.
He is survived by his wife, Bonnie Sullivant; two children, Dirk Sullivant and Jill Pietroburgo, husband, Philip three grandchildren, Jesse, Grace and Samuel; two sisters-in-law, Jean Sullivant and Linda Sullivant; and several nieces and nephews.
His parents, and two brothers, Noble Sullivant and John David Sullivant, precede him in death.
Visitation will be held from 5:00 until 7:00 p.m., Thursday at Langston Street Chapel of Robertson-Drago Funeral Home. Burial will be in the Howell Memorial Park Cemetery. Memorial contributions may be made to Ozarks Christian Academy, and may be left at Robertson-Drago Funeral Home.