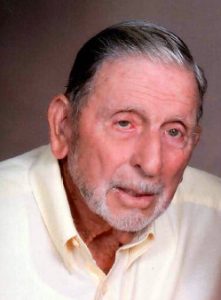 A memorial service for O. F. "Sam" Goldin, 89, West Plains, Missouri, will be held at 11:00 a.m., Friday, August 19, 2016 at First Church of God.
Mr. Goldin passed away at 10:41 p.m., Sunday, August 14, 2016 at Ozarks Medical Center.
He was born April 9, 1927, at Bremen, Georgia, to Grover and Ida Goldin.  On December 1, 1973, he was married to Dagmar Zander.  He graduated from Bremen High School and was a veteran, having served with the United States Army and Air Force during the Korean Conflict.  After his military service, he returned to his home in Bremen, Georgia where he began working with his father as a brick mason.  Mr. Goldin later went to work for Southern Pacific Pipeline where he continued working for thirty years until his retirement in 1968, at which time the family moved to West Plains.  Mr. Goldin was a Mason.
He is survived by his wife of forty-three years, Dagmar Goldin; two sons, Mark Goldin and Jeff Goldin; three grandchildren; one sister, Ruth Kiddo; and several nieces and nephews.
Memorial contributions may be made to the St. Jude's Children's Research Hospital or American Heart Association and may be left at Robertson-Drago Funeral Home.