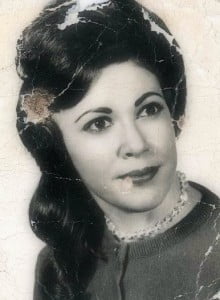 A memorial service for Odalee Collins, 76, West Plains, Missouri, will be held at 10:00 a.m., Saturday, March 12, 2016 at Bakersfield First Assembly of God Church.
Ms. Collins passed away at 10:45 a.m., Saturday, March 5, 2016 at her home.
She was born April 1, 1939, in Ozark County, Missouri, to William Edgar Whillock and Adness Collins Whillock.  Odalee loved her family and devoted her life to taking care of her kids.  She had a green thumb and enjoyed gardening, crafts, crocheting and ceramics.  Odalee was a Christian and had worked with Special Olympics in Texas.
She is survived by three children, Sheldon Dwayne Turner, Anita Jean Tackitt and husband, Jesse and Melvin Eugene Bales, Jr.; seven grandchildren, Travis Turner, Harley Turner, Billy Tackitt, Chelsea Thompson, Floyd Dalton Andrews, Renae Tackitt and Emma Maguffee; one sister, Evalee Swiney; and a large extended family.
Her parents and two brothers, Kenneth and Leon Stubbs, precede her in death.
Arrangements under the direction of Robertson-Drago Funeral Home.