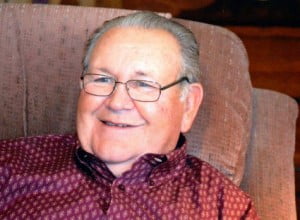 Funeral services for Douglas Blaine Loring, 74, Willow Springs, Missouri, will be held at 10:00 a.m., Thursday, March 10, 2016 at the Langston Street Chapel of Robertson-Drago Funeral Home.
Doug passed away at 4:14 p.m., Saturday, March 5, 2016 at Willow Care Nursing Home.
He was born May 8, 1941, in Douglas County, Missouri, to Joe Loring and Barbara Turnbull Loring.  On October 10, 1959, he was married at Twin Bridges, Missouri, to Anna Lou Johnson.  Doug began working for the Missouri State Highway Patrol in 1963.  He moved to Willow Springs in 1977, where he was promoted to Sergeant and worked in the Division of Drug and Crime Control Unit of Troop G, until his retirement in September of 1994. He loved to hunt, fish and work on the family farm.  Doug was a lifetime member of Missouri Foxtrotting Horse Breed Association.
He is survived by his wife of fifty-six years, Anna Loring, of the family home; three children, Terry Loring and wife, Rhonda, West Plains, Missouri, Sherry Pace and husband, Randy, West Plains, Missouri and Barbara Middleton and husband, Geno, Pomona, Missouri; eight grandchildren, Corporal Garrett Loring and wife, Lacey, Blaine Loring and wife, Mickey, Anna Waddell and husband, Pete, Tanner Pace and wife, Kelsey, Brayden Pace, Madison McCracken, Wesley Middleton and Dusty Middleton; three great-grandchildren, Parker, Khloe and Grayden; one brother, Gary Loring and wife, Ramona; and special niece, Tommie Jo Francka and husband, Gerald and their children, Savannah and Kyle.
His parents, three brothers and one nephew, Eddie, precede him in death.
Visitation will be from 6:00 until 8:00 p.m., Wednesday, at the Langston Street Chapel of Robertson-Drago Funeral Home. Burial will be in the Howell Memorial Park Cemetery.  Memorial contributions may be made to the OMC Cancer Treatment Center Expansion Fund and may be left at Robertson-Drago Funeral Home.