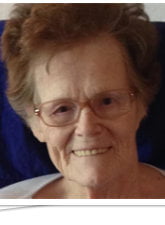 Funeral services for Pauline Viola Culton, 83, Bedford, Texas, will be held at 2:00 p.m., Saturday, May 14, 2016 in the Rose Chapel at Robertson-Drago Funeral Home.
Mrs. Culton passed away at 8:59 p.m., Monday, May 9, 2016, at Parkwood Healthcare, Bedford, Texas.
She was born September 2, 1932, at Omaha, Nebraska, to Carl Richards and Pauline Margaret Whistler Richards.  She grew up in Kansas City, Missouri. A devoted student, Pauline took as many advanced classes as she could in high school and participated in sports and school clubs. She graduated from Manual High School with the Class of 1949.  Pauline married J.L. Robinson in 1953 and had three children with him; Cheryl Ann, Linda Sue and James Love Robinson, III. After divorcing him in 1958 and while working at Wayne Towel and Linen Supply, she met and married Garry Wayne Henderson in 1961. They had two children together; Teresa Kay and Jacqueline Marie.  She and Garry divorced in 1987. Pauline reconnected with an old love, Dorman L. Culton, "Cully."  They were married in 1987 and remained married until Cully's death on December 29, 2014.  In addition to working at Wayne Towel and Linen Supply, Pauline worked at the Telephone Company and Ralston Purina.   As a single mom, she took in laundry and ironing. While taking accounting classes, she worked in the school cafeterias for the Kansas City School District and soldered computer parts at home for a small company. She was head of Payroll for Russell Stover's Candies, until 1989 when she moved with Cully to a farm near Pomona, Missouri to raise cattle. She did taxes for H&R Block in Kansas City and in West Plains, Missouri.
Pauline loved taking care of babies. She got tremendous joy from her grandchildren and great-grandchildren. Hosting week long summer stays for her granddaughters, Tiffany and Kristin, that included Fireworks on the 4th of July, antique shopping in Hardy, Arkansas and picking green beans, tomatoes and squash in the garden. Anyone who visited Pauline and Cully remembers barbeques and swimming at the North Fork of the White River. She cooked many family meals on Sunday afternoons. Dinner at 4:00 meant dinner at 4:00. You couldn't know Mom for long without knowing that if she thought she was right, she would "stick to her guns" no matter what.   Her advice consistently leaned heavily toward self-reliance and pragmatism. "Always have enough money with you to get yourself home on a date," comes to mind.  She was an avid reader and firmly believed in sing the library.  Pauline was a friend to the vulnerable; bringing vegetables from the garden to the assisted living apartments in West Plains, purchasing groceries on a list for a neighbor on a fixed income.  Groceries, whose prices never rose during the inflation of the 70's.   Her family remembers her for great fried chicken, a talent for saving money, her love of the TV game show Jeopardy and The Andy Griffith Show. Her favorite flower was the carnation and her favorite actor was John Wayne.
She is survived by four children, Jackie Henderson, Teresa Mitchell-Horder, Cheryl Ann Finke and Linda Sue Vannattan; four step-children, LaDonna Kersten, Mark Culton, Charles Culton and Amy Christopher; eleven grandchildren; and six great-grandchildren.
Her parents, husband and one son, James L. Robinson, III, precede her in death.
Visitation will be held prior to the service beginning at 1:30 p.m., Saturday, at Robertson-Drago Funeral Home.  Burial will be in the New Hope Cemetery.  Donations may be made to the American Stroke Foundation and may be left at Robertson-Drago Funeral Home.