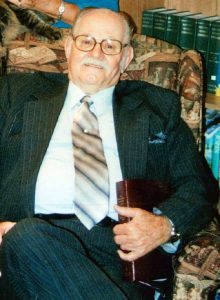 Funeral services for Reverend Ben Edward Glinn, 86, West Plains, Missouri, will be held at 2:00 p.m., Wednesday, January 18, 2017 at the New Liberty Baptist Church under the direction of Robertson-Drago Funeral Home.
On this day, January 12, 2017, you may have heard that Reverend Ben Edward Glinn had passed. This is not true. He is more alive than ever, because on this date, he entered the kingdom of heaven.
He was born April 13, 1930 to Archie Lee Glinn and Melvina (Bina) Mallory at Kansas City, Missouri.  The family moved to West Plains in 1935. Bennie (as everyone called him), entered the United States Navy on May 1, 1947; he served his country proudly for thirty years, and was the West Plains Navy Recruiting Officer for four of those years.  He was united in marriage to Priscilla Joan Gibbons on January 21, 1956 at Long Beach, California.   He accepted the Lord Jesus Christ as his personal savior in 1958 and surrendered to preach the gospel in 1958; he was first and foremost a Christian, served as a pastor of the Southern Baptist faith for over forty years.
Ben always said God blessed him with all girls. Tammy Glinn-Brown and husband Jim Eugene, Tempe, Arizona, Theresa Chesser and husband Ray E., Peoria, Arizona, Toni Glinn Aiton and husband, Autie, West Plains, Missouri and Tina Laird and husband Eric, Nixa, Missouri; Grandchildren, Benjamin Lee-Glinn Aiton, Victoria Aiton, Adawn Shipley and husband, Aaron Shipley, Colby Aiton, all from West Plains, Missouri, Shelbie Brown Maxfield and husband, Chris, Nathan Brown, Rae Jan Chesser, Joshua Chesser, all from Arizona, Jonathan Miller and Alizabeth Miller, both from Nixa, Missouri; Great-grandchildren, Kadrin Lee Aiton, Havyn Freya Aiton, Rohen Quill Aiton and Cooper James Shipley; Special Gifts from God, Daughters, Maria Badre, Atlanta, Georgia, Delores Pelate Martin, Eldorado, Illinois and her children, Mary, Mark and Rebecca, all from West Plains, Missouri.
He is preceded in death by his parents, Archie and Bina Glinn, brothers, Warren Glinn and Morris Glinn, infant great-grandsons, Gavin Edward-Max Shipley and Liran Skye Aiton.
Visitation will be from 6:00 until 8:00 p.m., Tuesday, in the Langston Street Chapel of Robertson-Drago Funeral Home. Burial will be at New Liberty Cemetery.  Memorial contributions may be made to the Gideon Bible Society and may be left at Robertson-Drago Funeral Home.