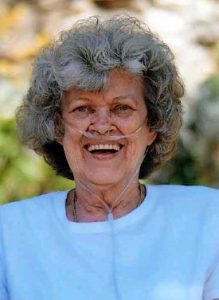 Graveside services for Barbara Ann Martin, 75, Dora, Missouri, will be held at 10:00 a.m., Thursday, January 12, 2017, at Sweeton Pond Cemetery, under the direction of Robertson-Drago Funeral Home.
Mrs. Martin passed away at 4:05 a.m., Tuesday, January 10, 2017 at her home.
She was born May 21, 1941, in Ozark County, Missouri, to Jessie Croney and Glennie Goss Croney.  Barbara graduated from Dora High School May 1959. She was married to Bill Martin on November 15, 1960 in Wichita, Kansas.  Mrs. Martin worked for many years at Zanoni Mill Inn Bed and Breakfast.  She enjoyed playing cards, quilting, reading books and spending time with her children and grandchildren.  Mrs. Martin was a member of the Family Life Church.
She is survived by her husband of fifty-six years, Bill Martin, of the family home; five children, Ronda Clinton and husband, Marty, Vanzant, Missouri, Deanna Morris and husband, Mike, West Plains, Missouri, Tammy Mattson and husband, Barry, Battlefield, Missouri, Terry Martin and wife, Elizabeth, Dora, Missouri and Darla Bookout, Springfield, Missouri; eight grandchildren, Ginny Robinson, Nick Clinton and wife, Kayla, Justin Morris, Dylan Martin, Lauren Martin, Olivia Martin, Jackson Martin and Kyleigh Bookout; three great-grandchildren, Jamie Robinson, Jaci Robinson and Emmett Clinton; three sisters, Vonda Wishman and husband, Charles, St. Charles, Missouri, Virginia Kelley and husband, Sam, Dora, Missouri and Lynda Smith and husband, Joel, Sycamore; two sisters-in-law, Deborah Croney, Seymour, Missouri and Charlene Parrish, Bee Branch, Arkansas; and several nieces and nephews.
Her parents, one brother, Jesse Croney and two sisters, Norma Croney and Glenna Bretz, precede her in death.
Visitation will be from 6:00 until 8:00 p.m., Wednesday, at Robertson-Drago Funeral Home.  Memorial contributions may be made to the Convoy of Hope and may be left at Robertson-Drago Funeral Home.