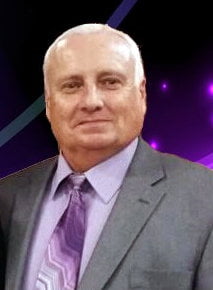 Funeral services for Reverend Joey Dale Hight, 61, West Plains, Missouri, will be held at 10:00 a.m., Friday, April 22, 2016, at the West Plains Civic Center, under the direction of Robertson-Drago Funeral Home.
Reverend Hight passed away at 8:24 a.m., Sunday, April 17, 2016, at Cox Medical Center South, Springfield, Missouri.
He was born December 23, 1954, at Anna, Illinois, to James "Pete" Hight and  Pauline Rose Hayes Hight.
Reverend Joey Hight's ministry began on July 18, 1975, and soon after was invited to travel with evangelist Terry Bowling of Franklin, Ohio, during the summer to minister in music and song at various Youth Camps. It is from this invitation, that Reverend Hight's ministry would develop into a full time evangelistic ministry, that included many churches, in many states, traveling many miles.
On April 2, 1977 he would marry Tricia Isaac of Fort Worth, Texas; their first home was a 1968 Holiday Rambler travel trailer. They began their first revival together in Idabel, Oklahoma and from that time forward, they saw their ministry blossom into a nationwide influence in the Holiness Pentecostal Fellowship. Over the years he preached at over 100 youth and adult camps. Reverend Hight was known for his illustrated sermons that captured the attention of the congregation. He was also known for his great talent playing the tenor saxophone, ministering to so many people over the years.   To quote the Hight's, "We are nothing now, nor were we something in the years past, except for the fact that God has HIS hand on our lives."  Their ministry, in years past, also included being a Youth Pastor and Pastors. Their first pastorate was at Florence Holiness church in Keller, Texas, then nine months as Youth Pastor at the Pentecostal Highway of Holiness Church in Hamilton, Ohio. Their next pastorate was in Jonesboro, Illinois, that lasted two years. For the past 25 years, they pastored the Calvary Pentecostal Tabernacle in West Plains, Missouri. During their pastorate, the Church saw many advances including a finishing of a multi-purpose building, evangelist apartment, Children's Church, remodeling of the sanctuary and foyer, as well as purchase of additional property.
Pastor Hight loved his Church babies and children. He loved baby dedications and often titled his sermon, "The Gospel According to …."  and would insert the baby's name. Pastor and Sister Hight were also very involved in the Ozark Holiness Youth Camp and Adult Camp. Pastor Hight was known for "walking guard" in those early morning hours at the Youth Camp.
Pastor Hight's influence in the community involved having served as Chaplain with Ozarks Medical Center for ten years, as well as Chaplain to the West Plains Police and Fire Departments since 1995. He had a great love for the Emergency personnel of our City and County and was highly respected by the community.
Pastor Hight has left behind a great legacy of love for ministry, family values, and compassion for community.
He is survived by his wife, Tricia Hight, of the family home; his mother, Pauline Hight, Karnak, Illinois; one brother, Marlan Hight and wife, Barbara, Grand Chain, Illinois; nephew, Corby Hight and wife, Kara; niece Taffy Halvorsen and husband, Shane; four great-nephews and two great-nieces, all of Grand Chain, Illinois.
His father precedes him in death.
Visitation will be held from 5:00 until 8:00 p.m., Thursday at the West Plains Civic Center.  Memorial contributions may be made to Calvary Pentecostal Tabernacle Church Medical Fund, these funds will go directly to Reverend Hight's medical expenses and may be left at Robertson-Drago Funeral Home.   Burial will be at a later date in Karnak, Illinois.