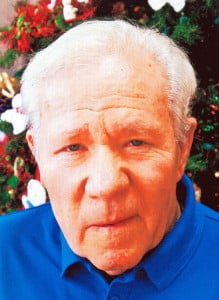 Funeral services for Charles Edward Ward, 83, West Plains, Missouri, will be held at 2:00 p.m., Monday, April 18, 2016 in the Rose Chapel at Robertson-Drago Funeral Home.
Mr. Ward passed away at 9:25 a.m., Thursday, April 14, 2016 at West Vue Nursing Center.
He was born March 16, 1933, at Kansas City, Kansas, to Elizabeth Ward McGoldrick.  Charles was an only child and at the age of eight years old, his parents moved the family to Peace Valley, Missouri, where he graduated from Peace Valley School.  On December 19, 1952, he was married at West Plains, Missouri, to Marylyn Louise Young, who preceded him in death on June 13, 2008.  He met Marylyn while working at the Shoe Factory in West Plains. Mr. Ward was a veteran, having served with the United States Army during the Korean War.  After he finished his tour of duty in 1955 he started working as a milkman.  He was a Milk Hauler for Dairy Farmers of America (Mid-America Dairymen, Inc.) for the next forty years; he drove two different milk trucks and had two pup trailers.  He enjoyed on occasion taking his daughters on his route with him and would stop in at the store at Peace Valley to treat them to a chocolate soldier (now known as a Yoo-Hoo!).  Mr. Ward enjoyed riding motorcycles, bowling and traveling.  He also enjoyed listening to country music, with Ferlin Husky and Roy Acuff being some of his favorites.  Mr. Ward was a member of the Church of Christ and attended Curry Street Church of Christ.
He is survived by two daughters, Charlotte Bennett and husband, Jim, West Plains and Amber Turner, Kansas City, Kansas; three grandchildren, Matt Bennett and wife, Angie, Kansas City, Kansas, Meghan Turner, Columbia, Missouri and Michael Turner, Rolla, Missouri and one cousin, Bob Ward and wife, Sylvia, Muskogee, Oklahoma.
His mother and wife precede him in death.
Visitation will be from 4:00 until 6:00 p.m., Sunday, at Robertson-Drago Funeral Home. Burial will be in the Howell Memorial Park Cemetery.  Memorial contributions may be made to the Parkinson's Foundation and may be left at Robertson-Drago Funeral Home.