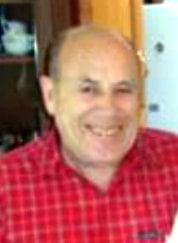 Funeral services for Robert Eugene Wood, 80, Liberty, Missouri, will be held at 10:00 a.m., Saturday, April 16, 2016 in the Rose Chapel at Robertson-Drago Funeral Home.
Mr. Wood passed away at 9:00 a.m., Wednesday, April 13, 2016 at his home.
He was born January 12, 1936, at Pomona, Missouri, to Russell Wood and Lola Dollins Wood.  In 1957, he was married in Howell County, Missouri, to Barbara Hankins.  Mr. Wood worked for Ford Motor Company and was a member of the United Automobile Workers Local 249 Teamsters Union.  He loved to hunt, fish and watch baseball, especially the Kansas City Royals.  Mr. Wood was a member of Liberty Church of Christ.
He is survived by his wife, Barbara Wood, of the family home; two daughters, Debra Sharp and husband, Marty, Stockton, Missouri and Pamela Campbell and husband, Anthony, Greenville, South Carolina; five grandchildren, Christopher and Casey Faircloth and Corey, Connor and Caitlin Campbell; one step-granddaughter, Ashley Sharp, one brother, Doyle Wood and wife, Terri, West Plains, Missouri; two sisters, Doreen Bridges and husband, Danny and Sue Bridges and husband, Gene, all of West Plains, Missouri; brother-in-law, Claude Hankins, Marshall, Missouri; sister-in-law, Bonnie Hankins, Farmington, Missouri; and many nieces and nephews.
His parents, one sister, Evelyn Bunch and his father-in-law and mother-in-law precede him in death.
Visitation will be from 6:00 until 8:00 p.m., Friday, at Robertson-Drago Funeral Home. Burial will be in the Howell Memorial Park Cemetery.  Memorial contributions may be made to American Heart Association or American Diabetes Association and may be left at Robertson-Drago Funeral Home.