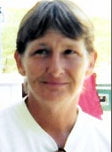 Rhonda D. Quinn, 55, died August 11th, 2014 at her home. Ms. Quinn was born June 1st, 1959 in Springfield, Missouri to Cecil and Judy Quinn. She grew up and attended school in Willow Springs, Missouri, later moving to West Plains where she worked in a variety of occupations before settling into long term employment with Trent Drilling; drilling water wells. Though the work was physically demanding, she loved her job assisting the business owner, and friend, Rex Trent, until his retirement in 2010.
She is survived by her daughter, Ragina Faith Shaw and husband, Patrick; two grandchildren, Sidney and Bodhi; two step-grandchildren, Tristan and Kellan; four siblings, Cynthia Judy and husband, Gerald, Hale, Missouri, Bobbi Tipton and husband, Robert, Pomona, Missouri, Paul Quinn and wife, Deborah, Mechanicsville, Virginia and Raegan Reynolds and husband Jimmy, Koshkonong, Missouri; and many cousins, nephews and nieces.
She is preceded in death by her parents.
Throughout her life, Rhonda was hardworking, fun loving, and enjoyed both the company of family and close friends, and the peaceful solitude of nature. She loved animals, and had many beloved pets over the years, leaving behind two cats and a dog which are noticeably distraught by her sudden and complete absence. She had a special connection with children and animals, and was adored by her grandchildren, as well as many nieces, nephews, and cousins. She led a simple, hardworking, and courageous life, and loved her family and friends very, very much. Irreplaceable, she passed from this world too soon, and will be missed deeply by her loved ones. Her smile, her laugh, her homespun wisdom, and her genuine childlike soul quietly supported and added to the quality of the lives she touched in that almost imperceptible way that is only most noticed when it is lost, like the air we breathe, or the warmth of the sun on our skin on cool autumn afternoons. Farewell, Rhonda, you are one of the real ones, the good ones, and we love you now and for always.
Due to the sudden and unexpected nature of her death, a private memorial will be held by her family on Saturday, August 16, 2014.