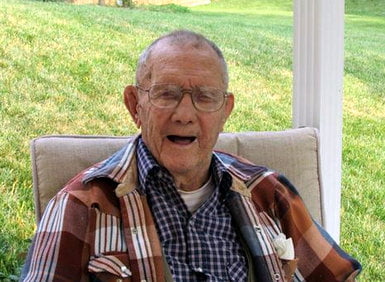 Funeral services for Chester Franklin Dildine, 92, St. Peters, Missouri, formerly of West Plains, Missouri, will be held at 2:00 p.m., Wednesday, August 13, 2014, in the Rose Chapel at Robertson-Drago Funeral Home.
Mr. Dildine died at 2:40 a.m., Sunday, August 10, 2014, at Garden View Care Center, O'Fallon, Missouri.
He was born July 18, 1922, at Ellsinore, Missouri, to Chester Arthur and Violet May Wheeley Dildine. On December 26, 1941, he was married at Doniphan, Missouri, to Jewel Deckard.   He and Jewel were married for seventy-two and a half years. He retired in 1984 from Keene Corporation and moved to West Plains. Chester liked to walk and recycle and was known around West Plains as the can man and was recognized several times over the years in the local newspapers of West Plains. He had celebrated five generations in his Family for the last five years.
He is survived by his wife, Jewel Dildine; three daughters, Annette Woelfel, husband, John, St. Peters, Missouri, who he had lived with for the last four years; Emilie Voyles, husband, Melvin, Van Buren, Missouri and Wanda Denton, West Plains, Missouri; seven grandchildren, David Jolley, wife, Karrie, Fenton, Missouri, Steven Jolley, wife, Michelle, West Plains, Missouri, Melvin Voyles, wife, Theresa, Van Buren, Missouri, David Pind, Warrenton, Missouri, Jackie Darien, Warrenton, Missouri, Angelina Denton Howell and Teena Denton, both of West Plains; sixteen great-grandchildren; three great-great-grandchildren; two sisters, Virgie Dodd, husband, Charles, Florissant, Missouri and Unath Hinton, Grandin, Missouri; and many nieces and nephews.
His parents, one daughter, Juanita Dildine, one grandson, Leonard Voyles and three sisters, Alma Hogan, Delma Ritchey and Elsie Dildine, precede him in death.
Visitation will be held from 6:00 until 8:00 p.m., Tuesday at Robertson-Drago Funeral Home. Burial will be in the Howell Memorial Park Cemetery.  Memorial contributions may be made to Children's Miracle Network, and may be left at Robertson-Drago Funeral Home.