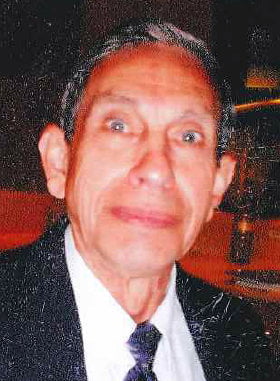 Funeral services for Richard Edwin McFarland, 78, West Plains, Missouri, will be held at 2:00 p.m., Friday, August 1, 2014, in the Rose Chapel at Robertson-Drago Funeral Home.
Mr. McFarland died at 5:15 p.m., Monday, July 28, 2014, at NHC Healthcare.
He was born December 21, 1935, at Brandsville, Missouri, the sixth of eight children of Noble McFarland and Pearl House McFarland. He graduated from Koshkonong High School with the Class of 1954. On February 9, 1957, he was married at Willow Springs, Missouri, to Shirley Fern Johnson, who preceded him in death on August 3, 2006. Mr. McFarland was a veteran, having served in the United States Army as a Specialist in food service and served in the National Guard for many years. He worked for five years at McDonnell Douglas in St. Louis, Missouri inspecting jet cockpits and testing engines for the Apollo 13 Space Program; two years at the Chrysler Gateway Ammunition Shell Plant in St. Louis, and finally went to work at the Chrysler Car Plant in Fenton, Missouri, where he retired after thirty years. After the death of his wife, Richard started traveling, going on a total of thirty-one cruises throughout the Caribbean, Europe, North Atlantic, Canada, Alaska and Mexico. Mr. McFarland attended United Freewill Baptist Church.
He is survived by two sons, Steve McFarland and wife, Sharon, St. Louis, Missouri and David McFarland, West Plains, Missouri; eight grandchildren, Charity, David, Scott, Christina, Brandon, Brittany, Briana and Brady; four step-grandchildren; six great-grandchildren, Dakota, Hadley, Carson, Madeline, Quinn and Lannie; his youngest brother, Charles McFarland and wife, Darlene, West Plains, Missouri; two sisters-in-law, Dolly McFarland and Glendora Johnson; his cruise companion, Tom Spades; and many nieces, nephews, cousins, friends and neighbors, both locally and throughout the country.
His parents, wife, four sisters, Bertha, Opal, Louise and Maxine and two brothers, Joe and Alfred, precede him in death.
Visitation will be held from 7:00 until 8:00 p.m., Thursday at Robertson-Drago Funeral Home. Burial will be in the Howell Memorial Park Cemetery. Memorial contributions may be made to St. Jude's Children's Research Hospital or a charity of choice, and may be left at Robertson-Drago Funeral Home.