Rita Sharon (Gilliam) Fugate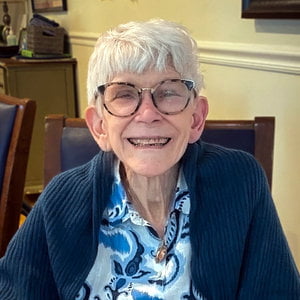 Funeral services for Rita Sharon (Gilliam) Fugate, 81, Overland Park, Kansas, formerly of West Plains, Missouri, will be held at 10:00 a.m., Monday, October 24, 2022 at St. Joseph's Catholic Church, under the direction of Robertson-Drago Funeral Home.  
Mrs. Fugate passed away at 8:10 p.m., Wednesday, October 19, 2022, at her home.  
She was born in Tama County, Iowa on March 27, 1941, to Ted and Jeanette Gilliam. Rita grew up in Peace Valley, Missouri and attended St. Joseph's grade school in White Church, and later West Plains High School. She earned a bachelor's degree in Mathematics Education from Southwest Missouri State University in 1962. She began her education career in Houston, Missouri in the fall of 1962. In July 1965 she married her husband and lifelong best friend and partner Royce Fugate. In April of 1967 their only son Charles was born.  Rita was passionate about teaching and education. She taught for fifteen years in the Jefferson City School System, earned a Master's Degree in Math Education from the University of Missouri, taught for two years in the Metropolitan Community Colleges of Kansas City, and served as an educational consultant for IBM, before arriving in 1993 at Missouri State University in West Plains. There she eventually served as Department Head of Math & Science and Interim Acting Dean, but the classroom was what she loved best, and she always found her way back to teaching students. She retired from teaching in 2009.  Rita was always active in the Catholic parishes she attended. She belonged to and supported many civic organizations: she was a founding member of Willow Springs Community Foundation and West Plains Community Foundation, and a member of Mountain View's St. Francis Hospital Auxiliary Foundation, Willow Springs Rotary (first female member), and Habitat For Humanity. Awards and honors she received included Willow Springs Woman Of  The Year, West Plains Educator of the Year, MSU Excellence in Community Service, MSU Distinguished Faculty/Staff Award, and with Royce was inducted into MSU Founders Club.  Throughout her life she took great joy from vegetable gardening, needlework, and cards (bridge and pitch–Peace Valley Rules). She enjoyed yearly lake vacations skiing and fishing, as well as time spent traveling and attending professional events with Royce at her side.
She is preceded in death by her husband Royce, parents Ted and Jeanette Gilliam, three brothers, John (and wife Lu), Mick, and Dennis Gilliam, one sister, Karen (Gilliam) Jones, and nephew Kyle Gilliam.
She is survived by her son, Charles Fugate and husband, Joseph O'Malley of Overland Park, Kansas; brother-in-law, Roy Jones; two sisters-in-law, Donna Gilliam and Karen Gilliam; nieces and nephews, Jackie Jones, Craig (Carlissa) Gilliam, Chris (Denisea) Gilliam, Curt (Kim) Gilliam, Brandin (Terra) Gilliam, Cayla (Scott) Broseus and Kristen (Lem) Kornegay; and several great-nieces and great-nephews.
Visitation will be held from 6:00 until 8:00 p.m., Sunday, at Robertson-Drago Funeral Home.  Burial will be at Howell Memorial Park Cemetery.  Memorial contributions may be made to Rita Fugate Endowed Scholarship awarded on the Missouri State University-West Plains campus (checks payable to MSU Foundation) and may be left at or mailed to Robertson-Drago Funeral Home, 211 West Main, West Plains, MO  65775.