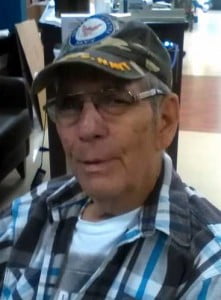 A celebration of life service will be held for Robert "Bob" D. Jeffery, 75, West Plains, Missouri, will be held at 2:00 p.m., Friday, June 19, 2015 at Gospel Hill Church of Christ, Pottersville, Missouri.
Bob entered into eternal rest at 9:45 am Friday, June 5, 2015, at Brooke Haven Healthcare.
He was born May 15, 1940, to Viola Jeffery Schuler, at Calico Rock, Arkansas. He was married to Brenda Kay Roberts of Pottersville in 1976, and had one daughter.
He is survived by his wife, Brenda; one daughter, Pam Sletten, husband, Neil, West Plains; seven grandchildren, J.R. Puckett, West Plains, Jordan Collins, husband, Ray, Koshkonong, Holly Bise, West Plains, Victoria Aiton, husband, Ben, West Plains, Jordan, Justin and Dakota Sletten, all of Willow Springs; seven great-grandchildren all of whom he loved dearly, Isaac Puckett, Kadrin Aiton, Wesson Collins, David Puckett, Havyn Aiton, Lilly Puckett and Ruger Collins; one sister-in-law, Denise Roberts and her children, Blake Roberts, Billye Williams, and Brent Roberts; three sisters, all of whom he loved with his whole heart, Sue Richardson, husband, Gaston, Elizabeth, Arkansas, Brenda Mackey, husband, Bill, Mountain Home, Arkansas and Paula Flippin, husband, Gary, Gassville, Arkansas; and many nieces and nephews.
Interment will be in the Gospel Hill Cemetery following the service. Memorial contributions may be made to the family or Gospel Hill Cemetery fund, and may be left at Robertson-Drago Funeral Home.