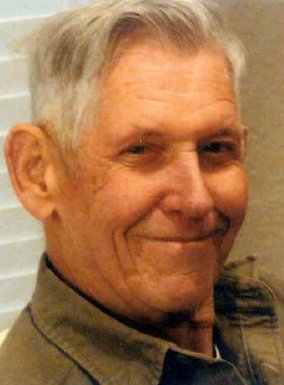 Funeral services for Robert William Holzapfel, 80, Caulfield, Missouri, will be held at 2:00 p.m., Saturday, May 31, 2014, at the Langston Street Chapel of Robertson-Drago Funeral Home.
Mr. Holzapfel passed away peacefully on May 16, 2014, at Ozarks Medical Center, after a short battle with cancer. He is survived by his wife, Arleen McDaniel Holzapfel, Caulfield, Missouri; his children, Linda Holzapfel Lindsey and husband, Ronald and Frankie Holzapfel Truesdell and husband, Baron, all of McKinney, Texas and Richard Holzapfel and wife, Jeni, Provo, Utah; fourteen grandchildren; fourteen great-grandchildren; one great-great-grandchild; and seventeen nephews and nieces.
Bob loved as his own, his brothers' children, Pat Holzapfel Impagliatelli, Alice Holzapfel Evans, George Holzapfel, Carolyn Holzapfel Payne, Bill Holzapfel (deceased), Fred Holzapfel and Art Holzapfel.
His father, mother, stepmother, and two older brothers, Art and George Holzapfel preceded him in death.
He was born October 2, 1933, at Kansas City, Missouri, to Arthur and Norma Stein Holzapfel. He lost his mother when he was three years old. Bob's father eventually married Lamberta Wachter, who loved him and raised him.
Bob attended William Jewell College in Liberty, Missouri and Missouri University in Columbia, Missouri. He enlisted in the United States Navy in 1954. He married Arleen McDaniel on November 20, 1959, at Blackfoot, Idaho.
An early graduate of the United States Navy Nuclear Power School at Arco, Idaho in 1960, Bob was immediately assigned to the first operating nuclear submarine in the Pacific, USS Swordfish (SSN 579). Later, he served at the Portsmouth Naval Shipyard, Kittery, Maine; the Small Craft Repair Facility, Da Nang, Vietnam; the United States Naval Station, Point Loma, California; and the United States submarine base, Holy Loch, Scotland. Bob retired as a lieutenant commander in 1975 after twenty-one years of dedicated service to his country.
He and Arleen then moved to south-central Missouri where they have lived, raising cattle on their farm. During this second career, Bob was involved with many civic organizations and causes, including the Twin Lakes Base of the Submarine Veterans group. He helped organize the Ozark County Ambulance District. The American Red Cross recently awarded him a 17-gallon blood-donation pin.
Completely honest and trustworthy, Bob lived an admirable life because he was a modest man who treated people with respect and concern. Countless family members, friends and neighbors will remember him as a generous man, a "Good Samaritan" to the people he met along the way during his mortal journey.
Visitation will be held from 7:00 until 8:00 p.m., Friday, May 30 at the Langston Street Chapel of Robertson-Drago Funeral Home. Mr. Holzapfel will lie in state at the Langston Street Chapel until service time. Interment will be at the Utah Veterans Cemetery and Memorial Park, 1711 South Camp Williams Road, Bluffdale, Utah, on Wednesday, June 4, 2014, at 11:00 a.m. The family requests that in lieu of flowers, memorial contributions may be made to St. Jude's Children's Research Hospital or a charity of choice, and may be left at Robertson-Drago Funeral Home.