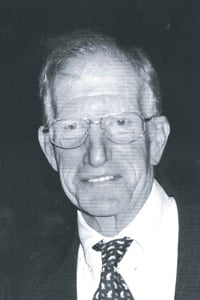 A private graveside service will be held Thursday, June 16, 2016 at the family cemetery in Thomasville for Roger D. "Dusty" Shaw, Jr., 74, Thomasville, MO.
Dusty passed away on Sunday, June 12, 2016 at Select Care Specialty Hospital in Springfield, MO.
Mr. Shaw was born on August 1, 1941 in St. Charles, IL to Roger D. and Margaret W. Shaw.
The family moved to Thomasville, MO when Dusty was 5.
He attended Milton Academy in Milton, MA for preparatory school but returned home and graduated from Thomasville High School in 1959 and continued his education at Central Methodist College in Fayette, MO and graduated in 1963. Dusty then worked toward his graduate degree at University of Missouri in Columbia, MO.
Dusty was married on July 7, 1963 to Nancy Boyd, Poplar Bluff, Mo and to that union two children were born, Roger Dustin Shaw III and Lisa Shaw Williams.
They then moved to Thomasville, MO so that Dusty could take over management of the family ranch, Eleven Point Ranch, which he continued until his death.
Mr. Shaw's mother instilled in him civic mindedness and therefore he was involved in and passionate about many local charity organizations and chaired and sat on many boards. He was a member of the Missouri Veterinary Medical Board from 1991-2006 where he was chairman for 12 years. He served 24 years on the Oregon County Soil and Water Conservation District Board. He had served as treasurer of the Eleven Point Valley Community Center Board for 40+ years. He was also a member of the Community Foundation of the Ozarks Board in Springfield, MO, OMC Foundation Board and the West Plains Bank Board. He made many lifetime friends serving his time on various boards and enjoyed meeting new people and gaining knowledge.
During his charity works, he received a number of awards and accolades. Some of which include Humanitarian of the Year Award in 2010 by West Plains Chamber of Commerce, Humanitarian of the Year Award by Community Foundation of the Ozarks, Springfield, MO, and the Granville Vaughan Award from Missouri State University West Plains.
He enjoyed being out on the family ranch, riding and showing cutting horses. He also had an extensive model train collection that he was very proud of. Most of the free time he had was spent with his grandchildren who were the light of his life.
Mr. Shaw was preceded in death by his parents, Roger D. "Dick" Shaw and Margaret W. "Peg" Shaw.
He is survived by a brother, William W. Shaw, Thomasville, MO, one sister, Judith Richardson and husband, Norris, Racine, WI, his wife, Nancy, of the family home, two children, Roger Shaw III, Thomasville, MO and Lisa Shaw Williams and husband, Jesse, Rover, MO, and four grandchildren, Austin Warren, McKenna Warren, Dustin Shaw and Caroline Shaw.
In lieu of flowers, the family asks for donations to be made to Ozarks Medical Center Foundation or the Community Foundation of the Ozarks and left at Robertson-Drago Funeral Home.