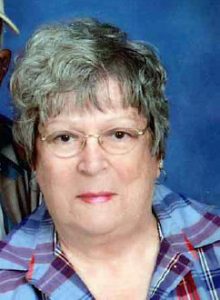 Funeral services for Wanda L. Roberson, 80, West Plains, Missouri, will be held at 10:00 a.m., Friday, June 10, 2016 in the Rose Chapel at Robertson-Drago Funeral Home.
Mrs. Roberson passed away at 6:20 p.m., Monday, June 6, 2016 at her home.
She was born July 22, 1935, at Moko, Arkansas, to Albert Michael Sanders and Chloa Bridges Sanders.  On January 23, 1953, she was married at Hardy, Arkansas, to Carl L. Roberson, who preceded her in death on April 4, 2016.  The couple had celebrated sixty-three years together.  To their union, three daughters were born:  Donna Jean, Lenora June and Patricia Ann.  Wanda was a devoted Christian and served at the Township Line Church and later attended United Freewill Baptist Church.  She loved to sing and play her auto harp.  Wanda loved her family to who she gave her all, her care, her love and her attention; she was so proud of all of her family and displayed family pictures on the walls and tables in her home for everyone to see.  She had a love of flowers and gardening and taught her daughters how to can.  Wanda also loved to go junking and antique collecting.
She is survived by three daughters, Donna Williams and husband, R. C., Little River, Texas, Lenora Martin and husband, Jerry, West Plains, Missouri and Patty Wood and husband, Kevin, West Plains, Missouri; three grandsons, Kenneth Martin and wife, Amber, Lance Williams and wife, Jordan and Benjamin Charles; two granddaughters, Amanda Hulsey and husband, Brian and Kristie Crow and husband, Cameron; seven great-grandchildren and one on the way; three step-grandchildren, Jennifer Coursey and husband, Justin, Brandi Bell and husband, Micco and Brennen Wood; five step-great-grandchildren; one brother, Eddie Sanders and wife, Donna, Springfield, Missouri; two sisters, Ruby Roberson, Raymore, Missouri and Vera Sanders, West Plains, Missouri; one sister-in-law, Faye Spoor, Kemp, Texas; one brother-in-law, Jerry Roberson and wife, Wanda, Eustace, Texas; and several nieces and nephews.
Her parents, husband, father-in-law and mother-in-law, Jesse and Aris Roberson, one half-sister, MaeBell Sanders, one brother, Leon Sanders; eight sisters-in-law, Nancy Roberson, Dorothy Roberson, Rosalie Roberson, Eunice Koelling, Bernice Fossett, Villie Barnes, Ella Roberson and Merle Driver, eleven brothers-in-law, Eldon Roberson, Earl Roberson, Burl Roberson, Wayne Roberson, John Alten Roberson, Mark Fossett, Art Koelling, Dwane Driver, Dick Sheffield, R. W. Pierce and Melvin Roberson, precede her in death.
Visitation will be from 6:00 until 8:00 p.m., Thursday, at Robertson-Drago Funeral Home. Burial will be in the Oak Lawn Cemetery.  Memorial contributions may be made to the St. Jude's Children's Research Hospital and may be left at Robertson-Drago Funeral Home.