Roy E. Harmon, Jr.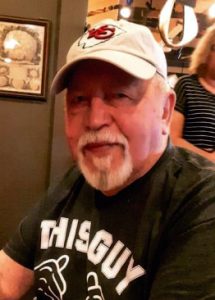 A memorial service for Roy E. Harmon, Jr., 88, Koshkonong, Missouri, will be held at a later date in New Jersey. 
Mr. Harmon passed away at 11:45 a.m., Friday, December 20, 2019 at his home.
He was born July 31, 1931, at Nutley, New Jersey, to Roy E. Harmon, Sr. and Isoline Byar Harmon.  On May 27, 1955, he was married at Patterson, New Jersey, to Jeanette Campbell Harmon.
He is survived by three children, Suzanne Gugliocciello and husband, Robert, Jean Lager and significant other, Steve Seley and Ross Harmon and wife, Carol; seven grandchildren, Kelly Sisco and husband, Reggie, Bob Gugliocciello and wife, Sarah, Jolene Mock and husband, Travis, Dan Gugliocciello and wife, Deseree, Cody Lager, Nick Gugliocciello and wife, Christine and Lindsey Harmon; nine great-grandchildren, Madison Sisco, Kennedy Sisco, Tristan Mock,  Lainee Gugliocciello, Mason Gugliocciello, Jack Gugliocciello, Mia Gugliocciello, Sadie Lager and Nora Gugliocciello; one sister, Katherine Chandler; and brother-in-law, Neil Campbell.
His parents, one son, Todd Harmon, four sisters, Dorothy McBrayer, Martha Noble, Louise Bradley and Florence Haefner and one brother, John Harmon, preceded him in death.
Memorial contributions may be made to The American Lung Association and may be left at Robertson-Drago Funeral Home.