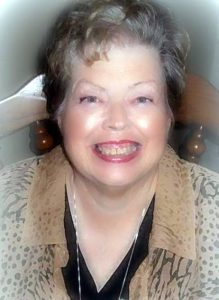 Funeral services for Sharon June Murdy, 72, Edmonton, Kentucky, will be held at 2:00 p.m., Monday, October 30, 2017 at Center of God Church, West Plains, Missouri, under the direction of Rose Chapel at Robertson-Drago Funeral Home.
Mrs. Murdy passed away October 24, 2017 at T.J. Sampson Hospital, Glasgow, Kentucky.
Sharon was born in Potosi, Missouri on April 25, 1945, the fifth daughter of Leonard Ruble and Bessie Moss Ruble Johnson. She learned to love the Lord at an early age and grew up to become a minister's wife. She and the young Reverend D.E. Murdy met on the 3rd of March, 1962, when he came to her church for revival. She was the piano player. They married four weeks later, on April 28, 1962, and were happily married for 43 years. Their joke was that he ran off with the piano player. The couple continued in the ministry and were blessed with seven children; Nancy, Wendell, Sharry, Dwight, Daisy, Benjamin, and Dollie. In 1978, Sharon packed her family up and joined her husband on the evangelistic field, making their home out of an old, blue bus. The family traveled throughout the central United States, preaching the word and singing Gospel Bluegrass. Also, traveling with the family was Sharon's Singer sewing machine, which she used to make curtains for the bus and clothes for the family. Sharon was known for her unique and fantastic work as a seamstress, as well as her ability to create good meals in spite of little food in the house. Her unending faith in the Lord saw the family through hard times, and her testimony of healing has blessed many through the years. She was known for reminding us all of Matthew 6:8 Be not ye therefore like unto them: for your Father knoweth what things ye have need of, before ye ask him. Her big smile lit up the room. She was a faithful servant to the end.
Sharon leaves behind many heartbroken loved ones. Her children; Nancy Logsdon and husband Rickey, Glasgow, KY, Sharry Lovan and husband Jack, Willow Springs, MO, Dwight Murdy and Sandy Moran, Bowling Green, KY, Daisy Smith and husband Danny, Munfordville, KY, Benjamin Murdy and wife Angela, Byhaila, MS, and Dollie Slayton and husband Joe, Edmonton, KY. Sharon also leaves twenty grandchildren; Laurie, Jared, Adam, Heather, Sarah, David, Monica, Curtis, Shayann, Brianna, Blake, Rachel, Liza, Audrey, Sage, Kyle, Dayton, Adrian, Joseph, and Kiristy, ten great-grandchildren; Kaylee, Owen, Hannah, Waylon, Kayden, Mason, Chase, Kylee, Aydon, and Annalei, three sisters; Peggy, Bonnie, and Joyce, three brothers; Steve, Jim, and Delbert, and two brothers-in- law; Dennis and Keith.
She is preceded in death by her beloved husband Eddie Murdy, her son Wendell Murdy, her parents and a host of other family members. Sharon often looked forward to the day when she would be reunited with her loved ones.
And God shall wipe away all tears from their eyes: and there shall be no more death, neither sorrow, nor crying, neither shall there be any more pain: for the former things are passed away. Revelation 21:4
Visitation will be held from 4:00 until 6:00 p.m., Sunday, at Robertson-Drago Funeral Home.  Burial will be in the Homeland Cemetery.  Memorial contributions may be made to the family and may be left at Robertson-Drago Funeral Home.