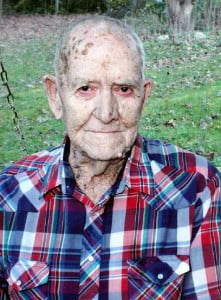 Graveside services for Sheridan Ellison, 90, Bakersfield, Missouri, will be held at 2:00 p.m., Sunday, March 13, 2016 at Udall Cemetery, under the direction of Robertson-Drago Funeral Home.
Mr. Ellison passed away at 5:40 a.m., Thursday, March 10, 2016 at Ozarks Medical Center.
He was born September 23, 1925, at Howard Ridge, Missouri, to Henly Ellison and Liza Welch Ellison.  On October 14, 1946, he was married at Dawt, Missouri, to Anna Lee Perry, who preceded him in death on December 5, 2015.  Mr. Ellison attended school at Hogdanger, Udall, Missouri.  He was a loving husband, father, grandpa and great-grandpa.  Sheridan loved being with his family and enjoyed fishing, hunting and camping.  Along with his wife, he owned and operated Bakersfield Hardware Store for many years.  Sheridan was a plumber, electrician and an avid carpenter, building and remodeling several homes in the area.  Mr. Ellison was a veteran, having served with the United States Army during World War II in Germany and France; and was an active member of the American Legion Post for forty-two years.  He was instrumental in establishing the Bakersfield Lions Club and Bakersfield Community Club.  Sheridan drove a school bus for several years for Bakersfield R-4 schools and served on the Bakersfield School Board as a member and president.  He also served on the City Council as a member and was Mayor for several years.  Mr. Ellison was a very active member of the community and was very proud of the Bakersfield community and the people, offering help to anyone who needed it.  Mr. Sheridan was of the Baptist faith.
He is survived by three children, Dianna Stover and husband, Larry, Bakersfield, Missouri, Elmalee Gargione and husband, Albert, Bakersfield,  Missouri and Eddie Ellison, Udall, Missouri; five grandchildren and twelve great-grandchildren, Kristi Edens and husband, John and their children, Keenan, Hayden and Miley, Justin Gargione and wife, Marsha and their children, Blake and Brooklynn, Jerry Stover and wife, Tina and their son, Isaac, Jennifer Johnston and husband, Darren and their children, Westin and Savannah, and Terry Stover and wife, Amy and their sons, Avery, Riley, Corbin and Brady; one half-brother, Edward Ellison and wife, Margaret, Cherry Valley, Illinois, one sister, Dellie Rothgeb, Owasso, Oklahoma; half-sister-in-law, Louise Perry, Kalamazoo, Michigan; and several nieces and nephews.
His parents, step-mother, Mary Perry Ellison, his wife of sixty-nine years and eleven brothers and sisters, precede him in death.
Mr. Ellison will lie in state from 5:00 until 9:00 p.m., Saturday, at Robertson-Drago Funeral Home.  Memorial contributions may be made to Udall Cemetery and may be left at Robertson-Drago Funeral Home.