Shirley Marie (Ball) Wood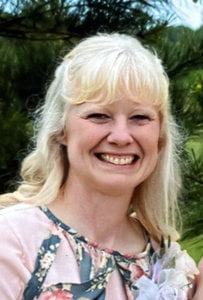 A Celebration of Life Service for Shirley Marie Wood, 50, West Plains, Missouri, will be held Tuesday, March 29, 2022 at 2:00 pm at First Baptist Church in West Plains, Missouri, under the direction of Robertson-Drago Funeral Home. The family will welcome friends for visitation from 1:00 – 2:00 pm prior to services at the church.
Shirley passed away Thursday, March 24, 2022 at her home surrounded by her family.
She was born October 28, 1971 in West Plains, Missouri, the daughter of Justus Mark and Dorothy Ann Ball.  Shirley loved the adventure of growing up on the farm with a big family. She attended Koshkonong School and was valedictorian of her graduating class. While in school, she earned the opportunity to run cross country in Europe. From an early age, she was very skilled and enjoyed spending time sewing. She was able to continue this hobby even while undergoing cancer treatments and donated her work to the Ronald McDonald House and the cystic fibrosis benefit auction. She always raised a big garden and canned the produce. She was a stay-at-home mom for many years and homeschooled her children. She then worked as a secretary at West Plains Middle School and West Plains High School, where she enjoyed building relationships with the students. She then moved jobs to Howell-Oregon Electric Cooperative, where she worked for 8 years. She loved her job there, and the people she worked with became family. Her faith in Jesus was very important to her and helped carry her through tough times during her life. She attended First Baptist Church in West Plains for many years and treasured the friendships she made there. She also loved spending time with her kids, grandkids, parents, siblings and their families. She was thankful to be able to live close to many of her family members. Her family was very special to her.
Shirley is survived by one son, Jeremy Wood and wife, Melanie, Strafford, Missouri; one daughter, Danielle Eidson and husband, Josh, Camdenton, Missouri; two grandchildren, Adalyn and Kaden; her father, Justus Ball, Koshkonong; seven brothers, Mark Ball and wife, Ann, Batesville, Arkansas, Mike Ball and wife, Exey, Hereford, Texas, David Ball and wife, Terri, West Plains, Jim Ball and wife, Rhonda, West Plains, Kenny Ball and wife, Diana, Koshkonong,  Bobby Ball and wife, Janet, Koshkonong, and Charley Ball and wife, Angie, West Plains; one sister, Lorie Jenkins and husband, Ryan, Thayer, Missouri; one uncle, Virgil Bruner (Marge Booten), Louisburg, Missouri; one aunt, Florence Heck, Perry, Iowa; and many nieces, nephews, cousins and close friends.
She is preceded in death by her daughter Frankie, mother Dorothy, infant sister Patricia, aunts, uncles, and grandparents.
Burial will follow services at Wayside Cemetery in Koshkonong, Missouri.
In lieu of flowers, memorial contributions are suggested to Hope 4 CF and Ronald McDonald House and may be left at or mailed to Robertson-Drago Funeral Home, 211 West Main, West Plains, MO  65775.