Thomas Neil Harris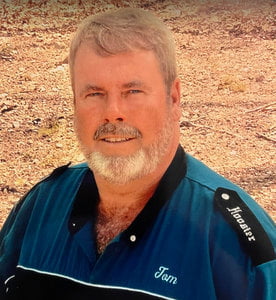 A Memorial Service for Thomas Neil Harris, 69, West Plains, Missouri, will be held at 2:00 p.m., Saturday, June 10, 2023, in the Rose Chapel at Robertson-Drago Funeral Home.
Mr. Harris passed away at 2:30 a.m., Wednesday, June 7, 2023, at Brooke Haven Healthcare.
He was born April 25, 1954, at the family home near Pottersville, Missouri, to Winifred and Loretta Grace Hopkins Harris.  On October 4, 1975, he was married at West Plains, to Erma Kinder; they were blessed with three sons.  Thomas was a graduate of the West Plains High School Class of 1972.  During high school he was a bass singer in a double mixed quartet which received a number one rating in the State competition.  He also attended Southwest Missouri State, West Plains.  Tom was baptized at the age of 18 at the Curry Street Church of Christ.  He was a talented singer and often led singing at services and revivals at several Church of Christ congregations in Arkansas.  He also preached at many services throughout the years and had a special love for the Hardy Church of Christ congregation where he preached for fourteen years.  Tom, Erma and their growing family lived in Council Bluffs, Iowa for five years where they attended the McPhearson Avenue Church of Christ.  While there, he grew in faith and maturity through lessons by Bill Stewart, Mark Foor and Barge Elmore.  Those lessons increased his love for the Gospel and when Tom and his family moved to Salem, Arkansas in 1981 he used that love and his speaking talent to teach to Gospel.  Tom loved stock car racing and spent many Saturday nights at speedways in the area watching his brother, Larry Piper, race.  Tom and members of the notorious "Spring Creek Gang" had their own version of a stock car for a while, but stories told through the years blamed a wild driver named John Bennett for ending their short career.  In reality, they were teenagers without extra money to spend on a stock car.  Tom began a long time hobby during his teens when he announced beside Murray Brown at the speedway north of town.  As an adult, he was an announcer at West Plains Speedway and Batesville Speedway and was often a guest announcer in Arkansas and Mississippi.  He helped the Gibson's market the first Show Me 100 and continued producing special and weekly programs for many years.  His sons spent those years alongside him at the races, selling programs and learning to take photographs.  Tom spent all of his working years as a salesman; first as a tire and retread specialist and later as a newspaper and radio advertising salesman.  Tom and Erma established the first legal subscription newspaper in Horseshoe Bend, Arkansas, called The Easy Living News, which won many state wide honors from the Arkansas Press Association.  Later he began Harris Printing Designs.  Shortly before retiring due to his health, he began The Buzz Shopper which Yancey and Lena Yates own and operate today.   Tom served his communities as a Vice-President and President of the Horseshoe Bend Chamber of Commerce, was on the Advisory Board of Ozarka College, secretary of the West Plains Lions Club and a volunteer for the Missouri Conservation in West Plains.  During his years as a newspaper publisher he was a member of the Arkansas Press Association and the National Newspaper Association.  He was a coach for many Little League ball teams and helped promote the Coca Cola Classic tournament for several years.  In July of 2012, Tom's life changed drastically when he began dialysis for end stage renal failure.  Because of the efforts and knowledge of Dr. Daniel Valachi, as well as the nurses at the Mountain Home Dialysis Center, Tom was able to beat a rare and almost always fatal disease of kidney patients called Calciphylaxis.  For almost six months Tom was in hospitals, rehab centers and nursing homes where he along with his family, fought this painful disease.  He was given six months to live, but managed to turn that into eight years.  Shortly before his death he beat Calciphylaxis once again.  The nurses, doctors and staff at DCI in West Plains referred to Tom as their "miracle man" as he continued to overcome the odds as an end stage renal patient.  Tom lived with his disease for over 13 years.  During that time, according to Erma and his DCI nurses, he never complained and met each day with a positive spirit.
He is survived by his wife, Erma; three sons, Bryan Harris and wife, Ginger, West Plains; Ted Harris and wife, Kristina, Cherokee Village, Arkansas, and Joel Harris and wife, Leslie, Nixa, Missouri; eight grandchildren, Alex Harris and Brittnay Nicodin, Jade Krislen Lee, Nathan Harris and Katie Elliott, Alexa Turner and husband, Brenden, Dalaney Woolridge and husband, Rustin, Aniston, Henley and Crosby Harris; two great-grandchildren, Brantley Luke Turner and  Prairie Jo Woolridge; one brother, Mike Harris; one sister, Wendy Dunkin; brothers-in-law and sisters-in-law, Joyce Piper, David Lynn Murphy, Doyle Surritte, David Kinder and Nancy Menningen; and many nieces and nephews. 
His parents and their spouses, Winifred and Judy Harris and Loretta and Oral Ball, one brother, Larry Piper, two sisters-in-law, Myrna Surritte and Brenda Murphy and his father-in-law and mother-in-law, Paul and Pat Kinder, preceded him in death.  
The family will receive their friends from 1:00 until 2:00 p.m., Saturday, at Robertson-Drago Funeral Home.